SwiftKey Stats lands in Android app update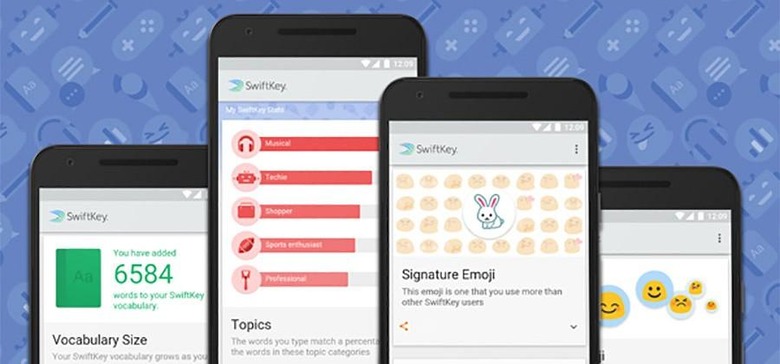 If you are the sort who is always on your smartphone typing away in texts, emails, or social media posts, you might have wondered just how many words you have typed. Back in January, the SwiftKey keyboard added SwiftKey Stats to its Androids beta for people to try out. That stats feature has now moved out of beta and become an official part of the SwiftKey app in the latest update available right now.
The update will track all sorts of things about how you type with the keyboard including typos corrected, keystrokes saved and other items. The stats are tracked for words and emoji and it keeps track of topics. With the stats update, you can see the 3-5 subjects that you type about the most. You can track what your most used emoji is with different emoji in little bubbles.
The larger the emoji in the bubble, the more you use it. You can also track the emoji that you over use the most, which is the emoji that you use more than other people. Stats also tracks the vocabulary size, which is words that SwiftKey has learned from you. To access the stats, users do have to sign into SwiftKey.
Other people can't see the stats that you rack up on SwiftKey unless you choose to share them. The update landed yesterday and is on Google Play right now. SwiftKey is a very popular app having somewhere between 50 million and 100 million downloads. There are in-app purchases that range in price from 99 cents to $29.99 per item. The update also brings with it some bug fixes and support for Vietnamese.
SOURCE: SwiftKey