SwiftKey 3 launches officially (with a discount, too!)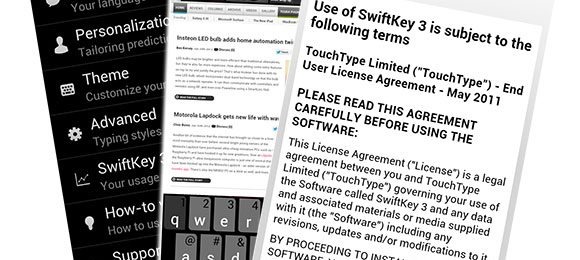 Today you'll find yourself getting notified (if you use any version of SwiftKey) that the newest version of this 3rd party Android-based super-keyboard has been launched in its newest big iteration: SwiftKey 3. This version of the application will cost you $1.99 (£1.49) for a very limited time (this being half the normal price) and will bring you, as SwiftKey says, "the most accurate and complete auto-correction and prediction available on any smartphone or tablet." We've taken a look at this application in Beta as well as in its final iteration and can readily say that their claims for best-in-class greatness may well be true!
This release will be bringing on the combined efforts of SwiftKey's VIP community of over 65,000 testers. This VIP community is made up of helpful beta-testing users like you or I and is a collaborative effort in which average everyday smartphone and tablet users suggest what might be best for the greatest on-screen keyboards in the mobile world. Have a peek at this talk we had with SwiftKey's community manager Evan Tapper at CTIA 2012 on the VIP community and future releases of SwiftKey:
Check out the full post on that subject to also see SwiftKey CMO Joe Braidwood (also seen below in this post) speak on this new build as well. Next have a peek at some new features you'll be getting on SwiftKey 3's final release:
• Smart Space –adding to SwiftKey's already cutting edge correction, Smart Space detects mistyped or omitted spaces across strings of poorly typed words in real-time.

• Two new themes – a new theme, 'Cobalt', to match SwiftKey's new look and feel, and an Ice Cream Sandwich-styled 'Holo' theme, as voted for by SwiftKey's VIP community.

• An enhanced UI – a much larger space bar and smart punctuation key help improve accuracy and make it quick and easy to access common punctuation.

• Additional languages – SwiftKey 3 now offers support for an additional seven languages, bringing the total up to 42. The new languages are Korean, Estonian, Farsi, Icelandic, Latvian, Lithuanian and Serbian.
Have a peek at Braidwood speak on Smart Space here:
This version also includes quite a few improvements over what's already been a part of SwiftKey for a while. These improved bits include:
• A dedicated comma key, and the key in the bottom-left corner.

• Refined Smart Punctuation pop-up for better, more consistent behaviour.

• Improved Smart Space functionality for easier email addresses and URL entry.

• Reduced lag on some devices for a more responsive experience.

• Reintroduction of the long-press duration setting by popular request.

• Further improved prediction algorithms for even more accurate next word suggestions.

• Updated gestures for easier shortcuts.

• Several bug fixes.
Have a peek at our own hands-on with SwiftKey 3 before it was out on the market here:
And finally head on over to the Google Play app store and find SwiftKey 3 right this second – you too can get your hands on this lovely keyboard in its final release for just $1.99 (£1.49) – grab it now!