Sweet GlideTV Navigator is the coolest looking HTPC remote ever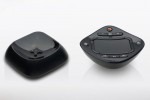 One of the big problems I have had with the HTPC computers that I have tried and tested over the years is that there is not typically a good way to control all of the media from across the room. You can use a keyboard and mouse, but in cramped spaces that can be challenging, especially for the mouse. Glide TV has a new HTPC media controller that is way cool called the GlideTV Navigator.
The device is a clickable touchpad that you can map to your TV screen with precise cursor control and the ability to scroll with one thumb. The buttons are backlit for use in a dark room and the device has directional buttons. Dedicated keys for escape, enter, back, and function keys are included.
When use with Windows HTPC systems the Navigator can be used with an on-screen keyboard. Search menus for Google and other sites like Hulu are integrated with the device as well. I could certainly see myself using this rather tan one of those air mice to control my HTPC from across the room. The GlideTV Navigator is compatible with Mac, PS3, and Windows XP and Vista operating systems. The gadget will sell for about $150.