Sweet BitFenix Colossus computer case unveiled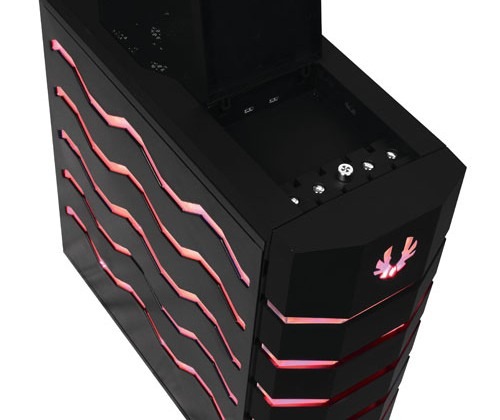 I have never heard of a company called BitFenix but they tossed a cool new computer case onto the market yesterday that I really want. The case is called the Colossus and has a design that's not more of the same old stuff that we typically see when a new case hits the market.
The case can be had in black or white colors and has these lines that run around the sides and across the front that have lighting effects. The lights can be turned to red or blue and can be set to glow steadily, pulse, and can be turned off as well. The case is made from SECC and ABS and is an ATX full tower case measuring in at 245 x 558 x 582mm.
The case supports Mini ITX, mATX, ATX, and E-ATX mainboards and has five 5.25" drive bays with one of those being an external bay. Internal 3.5" drive bays total seven and those same bays can be used for 2.5" HDDs as sell. The cooling system includes a 230mm front fan, an optional 140mm or 120mm spot in the rear for a fan, and a 230mm top fan. An additional 140mm fan can be used in the bottom of the case for more cooling. The front panel has a pair of USB 2.0 ports and a pair of USB 2.0 port along with eSATA and audio ports. The power supply goes in the bottom of the chassis. The Colossus will sell for $169.