Swagtron EB12 electric city bike goes full-size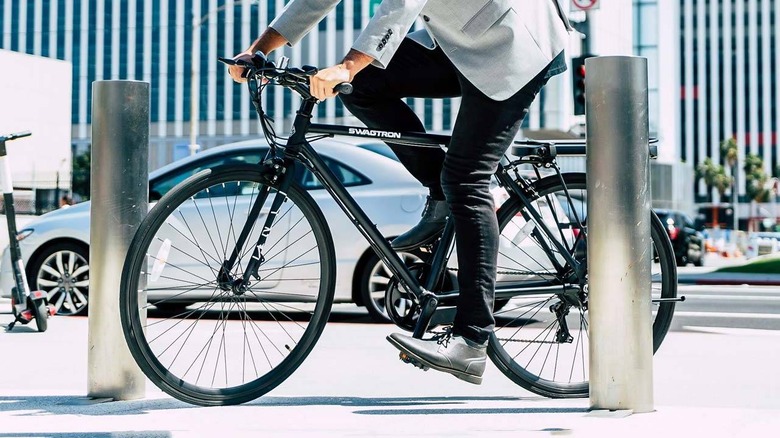 The folks at Swagtron made their share of fold-up or otherwise compact e-bikes in the last several years. Now, with the EB12, they've created a machine that looks for all the world like a standard multi-gear city-aimed adult bicycle. This machine has a diamond road frame and 700c wheels paired with a 250-watt motor (and a 7-speed Shimano drivetrain to boot) for a shocker of an e-bike, to be sure.
Back in September of 2018, I reviewed a Swagtron EB-5. That's a top-end Swagtron brand e-bike that folds up when not in use. It's not particularly light, and it's by no means a full size bike – but it's a winner. It does exactly what the company suggests it'll do.
Now with this EB12, I'm interested to see if the same quality in power/battery life, and etcetera translate to a much larger piece of equipment. I expected, when I first learned I'd be reviewing the EB-5, that I'd be folding it up and carrying it places fairly often, but found that using a bike lock to keep it out on a bike rack felt much more often the more natural course of action. With the EB12, this might then dismiss the relatively few misgivings I'd had with the EB-5. But we shall see, assuming we eventually get ourselves a review unit!
SWAGTRON EB12 FEATURES + SPECS:
• 250-watt motor
• 7-speed Shimano SIS
• 28-mile range (motor only)
• 16 mph top speed (motor only)
• 53cm frame (fits riders 5'3" – 5'9")
• Aluminum frame + steel fork
• 700c wheel + 25mm tires
• Adjustable seat height
• Flat bar + riser stem
• LCD backlit display
• 36V 7.5Ah Li-ion battery (lockable + removable)
• IPX4 splash and weather resistant
• Includes safety bell and reflectors
• Weight: 39.24 pounds
• Max rider weight: 264 pounds
• Color: satin black
• MSRP: $1,000
This bike will be "initially available exclusively" at BestBuy's online shop and at select brick and mortar locations. Available in any color you like, just so long as it's Satin Black.