Suzuki e-Let's Electric Scooter Developed in Conjunction with Sanyo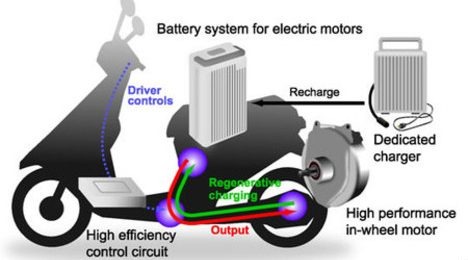 Today, Sanyo announced and unveiled their brand new creation: the Electric Drive System, which the company worked exclusively with Suzuki to develop. The EDS is utilized within the brand new e-Let's, an electric scooter that combines a high level and high-performance control circuit, with a high-performance in-wheel motor, which were primarily created by Sanyo. The scooter was created to save space, and not waste any parts, and weighs in at only 74kg, including the battery.
Sanyo implemented their own lithium-ion batteries in the e-Let's, as well as including a dedicated charger and a brand new battery system used specifically for electric motors. The new scooter weighs just a little less than the petrol-engine version, but it's enough to be noticeable. And, as with many electric scooters, the e-Let's offers up a soundless drive, low vibration, zero emissions, and smooth acceleration.
You can charge the e-Let's from a 100V household outlet, and it will give you a range of 30km after a four hour full charge. The scooter is a single-seater, though, so you won't be taking any dates around on this thing. No word on when Sanyo or Suzuki will market the e-Let's, or where, or for how much.
[via FarEastGizmos]