Survival Bike: Black Ops combines a moped and end of the world arsenal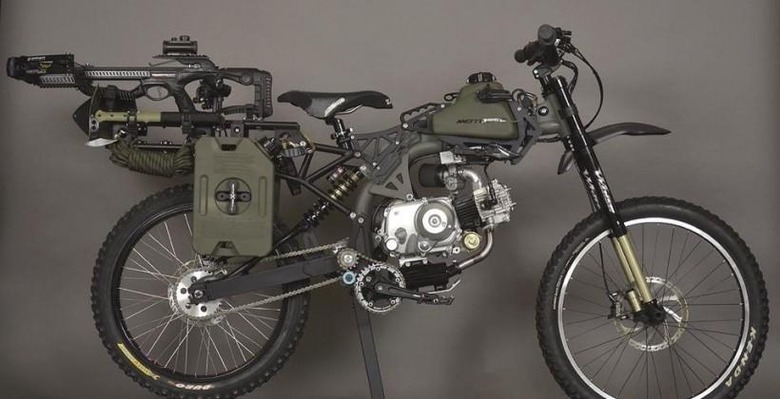 We've seen big trucks decked out for the ever-anticipated apocalypse, but if you're looking for something a bit smaller and easier on gas, Motopeds has a bike that fits the bill. The Survival Bike: Black Ops edition, is a model outfitted with an end of the world arsenal, including a crossbow and tomahawk.
The Survival Bike — which is said to be a prototype at the moment — was introduced on the company's Facebook page, where it uploaded a gallery of images and run down of what the miniature beast offers (check out the gallery below for all the pics).
Check out the SlashGear Cars Hub for more automotive news!
Matching the dark frame and green paint, the Survival Bike includes a green bundle of rope, a Barnett Recruit compound crossbow, containers to hold a gallon of gasoline, a harpoon, tomahawk, survival shovel, fixed-blade saw, LED flashlight, Blackburn X6 light system, and multi-tool.
Think that's all? Think again. Rounding out the bike is a Tactical-Warrior Neck Knife, a secondary multi-tool, a bike mount for an iPhone or GPS unit, and Black Diamond Carabiners. The bike is estimated to get between 80 to 120MPG, but other details are sparse at the moment.
VIA: Engadget