Surface Pro Special Edition NFL Type Covers celebrate your favorite team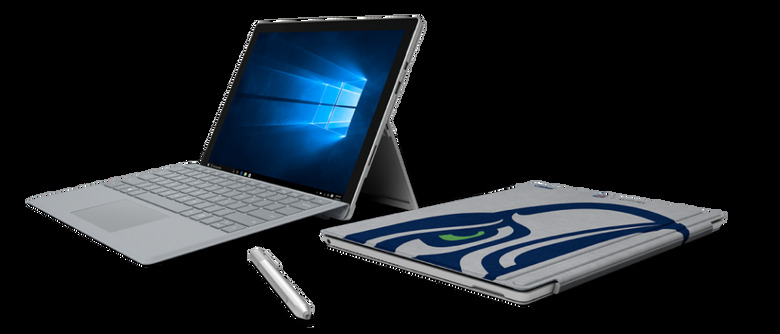 Every football fan in the US knows that the kickoff to the 2016-2017 NFL season is right around the corner. Microsoft wants to capitalize on that passion for NFL football and is offering people who have the new Surface Pro some cool Type Covers to choose from. There are covers for every single NFL team to choose from. Microsoft says that the first concept it made of the new NFL cover was for the Seattle Seahawks.
That cover got quite the reaction on twitter from coaches and players says Microsoft. NFL teams use the Surface in the coach's booth and on the sidelines according to Microsoft. This response lead the Surface team to build Type Covers with the logo from every single NFL team out there just in time for the new season.
Each cover has a full-bleed NFL logo on it and has the same keyboard that you find inside standard Type Covers and has a large glass track pad for controlling the mouse. There are 32 different Type Covers to choose from covering all teams. They will sell for $159.99 at select Microsoft Stores and online. They will also land at Best Buy and Amazon on August 29.
The Surface Pro 4 has proven to be popular for Microsoft. The high-end version of that machine is the 1TB model and back in late June, it landed in ten more markets. The machine landed in Australia, Austria, China, France, Hong Kong, New Zealand, Switzerland, and the United Kingdom. Along with that 1TB storage capacity, the machine also has a Core i7 processor and 16GB of RAM. That 1TB version of the Surface Pro 4 sells for right at $2,700 in the US making it one of the more expensive PCs you can get your hands on.
SOURCE: Microsoft