Technology is and should be inclusive and, today, the companies that make them are proud to proclaim their inclusivity as well (whether they actually are or not is a different question). Every year, these companies find ways to show their support not just for their own employees but also for the LGBTQI+ community at large. This year, to celebrate "Stonewall 50", Microsoft is encouraging supporters to show their pride with a special edition Surface Type Cover that literally shows their pride.
The Stonewall uprising in June 1969 is considered to be a pivotal moment in the history of the LGBTQI+ community, particularly in the US. It is also credited to have sparked the gay pride marches that now take place all over the world. Reaching fifty years is a huge deal for a part of society that continuously fights for their rights.
Unsurprisingly, some tech companies are making a big and public effort to voice their support and, like it or not, that usually involves special merch to buy. In Microsoft's case, that comes in the form of a Surface Pro Type Cover keyboard with the word "pride" written in the movement's iconic rainbow colors.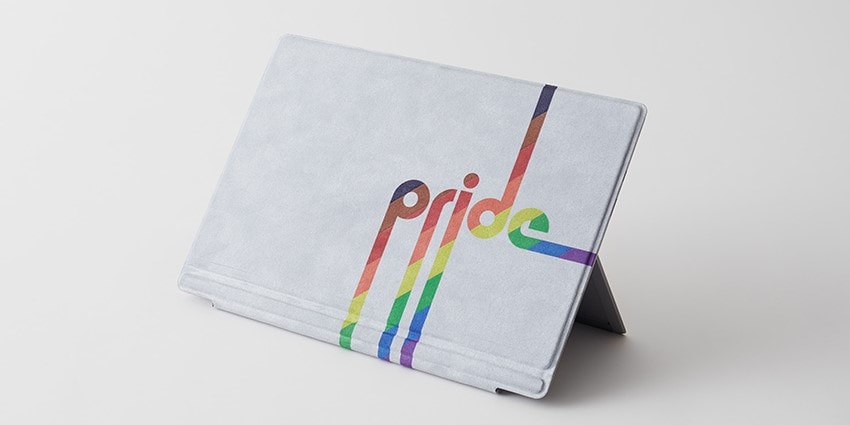 To be fair, that's not the only thing Microsoft is doing to support the movement. It has also pledged to donate a total of $100,000 to LGBTQI+ organizations in the US, UK, Australia, and Canada. It has also put up a special page especially for Pride month.
The white and rainbow Microsoft Pro Surface Pride Type Cover is available on pre-order now for $159.99. It will actually launch a little later on June 27. The Type Cover is compatible with the Surface Pro 4, Surface Pro 5, and Surface Pro 6 and is available in QWERTY English layout only.