Surface Pro 8 might have significant changes after all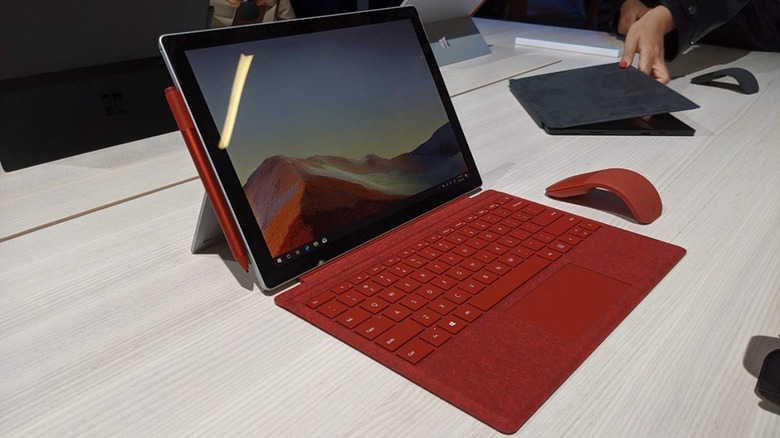 Microsoft's September event is just a few days away, and many people are already curious not just about Windows 11 but also about whatever new Surface devices the company might have in store for its faithful fans and customers. The Surface Duo 2 is already a big item on that list, and there are some whispers of an interesting new design of the next Surface Book. It almost sounds like that the Surface Pro, the progenitor of all these devices, won't be as interesting, but a new leak about the Surface Pro 8 does put it under a more favorable light.
Ever since the Surface Pro 2-in-1 tablet became a hit, it has changed little over the course of the years. Sure, there have been incremental upgrades in processors, display resolutions, and some small design aspects, but the basic formula has remained the same through generations. It was only with the Surface Pro 7 above, for example, that Microsoft finally added a USB-C port and not a Thunderbolt port at that.
Based on a new leak, that might finally be changing with the Surface Pro 8. It mentions not one but two Thunderbolt 4 ports, though there will probably still be a proprietary Surface Connect port as well. Given Microsoft's distrust of Thunderbolt security, it will be interesting to hear what it will have to say about this change.
The marketing material also notes that the Surface Pro 8 will have a 13-inch screen with a 120Hz refresh rate. The latter is again a first for the Surface line, finally keeping up with modern laptops. More than just for gaming, the high refresh rate could also make the system feel more responsive, especially in reducing the lag from the N-Trig pen.
Microsoft Surface Pro 8 Exposure ✅

- Intel's 11th-generation Core processor
- 13" 120Hz High Refresh Rate Narrow Border Screen
- Windows 11
- Dual Thunderbolt Interfaces
- Replaceable SSD Hard Drives#Microsoft #Surface #SurfacePro8 pic.twitter.com/ITFftYG4dg

— Sam (@Shadow_Leak) September 19, 2021
Unfortunately, the device illustrated in the leak is the Surface Pro X, at least according to Windows Central's Zac Bowden. There's no word yet on what design the Surface Pro 8 will adopt this time, but it's definitely long overdue a facelift with thinner bezels and a dedicated home for the Surface Pen in the keyboard cover.