Surface Pro 2 Gets Big Price Cuts Ahead Of Surface Pro 3 Launch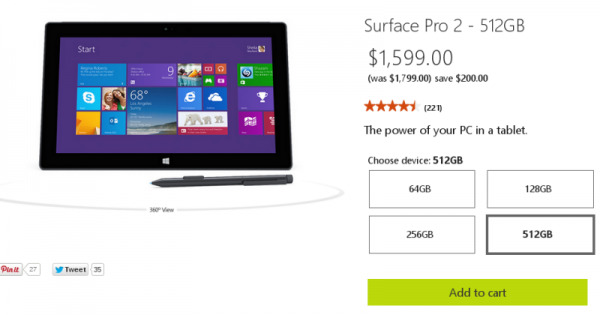 With the Surface Pro 3 well on its way to a commercial release, it was only a matter of time before Microsoft sounded the death knell for the previous generation its tablets. The first part of that process has now started as Microsoft implements a substantial price cut of the Surface Pro 2 tablets across all available configurations.
The Surface Pro 2 is barely a year old since it actually went on sale around October last year. In fact, it even got a quiet update early this year, boosting both the CPU and the GPU clock speeds by just a tiny bit. 8 months might actually be a long time for a smartphone to remain as a company's flagship in this ever-changing mobile device market. But for something like the Surface Pro 2 that blends tablets and laptops together, or at least tries to, that might actually be too short a time for it to sink into the consumer's consciousness.
That said, it is also good that Microsoft is iterating over the device line as fast as it can, considering how both the first and second Surface Pro hybrids remained niche devices. And it might have actually hit a sweet spot with the Surface Pro 3. Regardless of whether you buy Microsoft's spiel about this tablet replacing your laptop, the device can now stand well, figuratively and somewhat literally, to make that actually almost believable. As you can read from our extensive review of the Surface Pro 3, it might actually be a device worth its price.
As far as that price goes, it's not normal business practice to have a newer and better flagship cost less than the previous generation. And so Microsoft is taking the Surface Pro 2 figures down a notch. The lowly 64 GB version will now cost $799 instead of $899. The 128 GB model gets a similar $100 price cut from $999 to $899. The savings on the two higher models are more significant, with the 256 GB at $1,099 and the 512 GB at $1,599, both $200 cheaper than their original prices.
The old price tiers will then be taken up by the Surface Pro 3, starting at $799 at the lowest, but practically more than that because you'll definitely want to get a Type Cover to complete the deal. While the price cut might seem like a good chance to get yourself one of Microsoft's previous generation tablets, depending on your use case, and which side your on in the Wacom vs N-Trig face-off, you might actually want to just save up for the latest when it comes out in about a week or so.