Surface Neo and Duo videos entice developers into a dual-screen world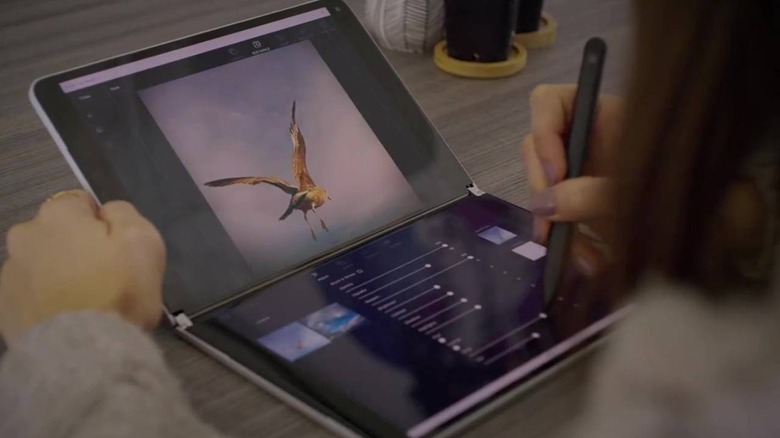 It might have been easily overshadowed by Samsung's Galaxy S20 and Galaxy Z Flip reveals but Microsoft also had something sizzling for its own developers. At its Developer Day event, the company finally launched the much-awaited and much-needed Windows 10X emulator to get development rolling for the dual-screen Surface Neo. Apparently, it also had a pair of videos to whet developers' appetites about what they can accomplish with more than one screen.
What do you get with a dual-screen device? Thanks to previous products by ZTE and LG, to name a few, we already have a glimpse of what's possible in terms of productivity and creativity with two screens in one device. They also, however, reveal how app developers need to be in on the game for the magic to work, which is why Microsoft had these sizzle reels ready to convince them.
Adobe Spark Post is just one of the many Android apps created to enable non-designers to create fancy social media posts but, being an Adobe product, it is one also one of the more popular ones. With a dual screen device like the Surface Duo, creating Spark Posts is just a drag and drop affair. But more important for developers, the video testifies how it only required very few lines of code to make an existing app work almost seamlessly on two screens.
PicsArt, which started out as a mobile app, takes a similar theme on the Windows 10X-based Surface Neo. It separates controls into one screen and the finished product on the other. One special feature, however, is the Surface Pen that opens up more precise nudging and poking.
The videos, which haven't been made officially public, are meant to try and sell the ease of adapting existing apps to the Surface Neo and Surface Duo. That said, these companies may have had some direct assistance from Microsoft, something not all developers would have access to. Hopefully, they won't have to if it's as easy as Microsoft claims it to be.