Surface Laptop release date and pre-order details prepare for June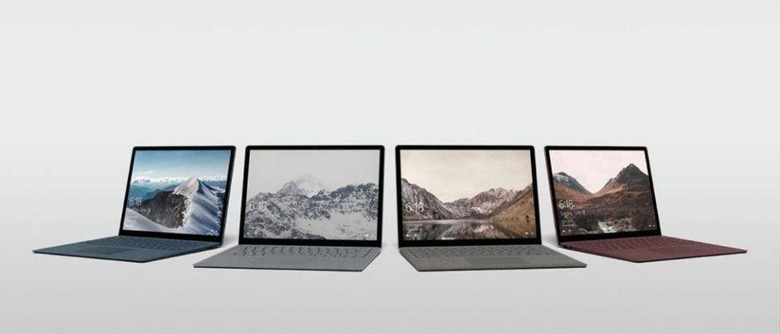 If you've decided you need to have a Surface Laptop, which was unveiled earlier during Microsoft's education event, then good news: the company says that the notebook will go up for pre-order later today. It's going to be a relatively short period of time between reveal and release too, with Microsoft announcing a June release date for the Surface Laptop.
There are four configurations in all, with each one running Windows 10 S out of the box. Two of these feature an Intel Core i5 processor with Intel HD Graphics 620. The less expensive one will offer a 128GB SSD and 4GB of RAM, while the more expensive of the two bumps up internal SSD storage to 256GB and RAM to 8GB. Though Microsoft hasn't announced specific pricing details yet, it has said that the Surface Laptop will start at $999, which we can assume is the price for the 128GB Core i5 model.
If you need a little more power, there are two models with a Core i7 to choose from. Both ship with Intel Iris Plus Graphics 640, giving you a boost in integrated graphics as well. As with the Core i5 configurations, the difference here come down to internal storage and RAM – one has 256GB of SSD storage and 8GB of RAM, while the other has a 512GB SSD and 16GB of RAM.
Microsoft has made the Surface Laptop's color options a centerpiece of marketing thus far, but interestingly, you only have your choice of color in the Core i5/256GB model. With that one, you can choose from burgundy, cobalt blue, graphite gold, or platinum, but in all the others, the sole color option is platinum.
Also strange is the fact that we can't pre-order from Microsoft's online store just yet. Microsoft, it would seem, is a little slow in opening up pre-orders, despite saying that they'd be available today. In any case, the Surface Laptop launches on June 15, so just about six weeks from now. Will you be buying one? Head down to the comments section and let us know!
SOURCE: Microsoft