Surface Duo spotted in the wild, still needs some work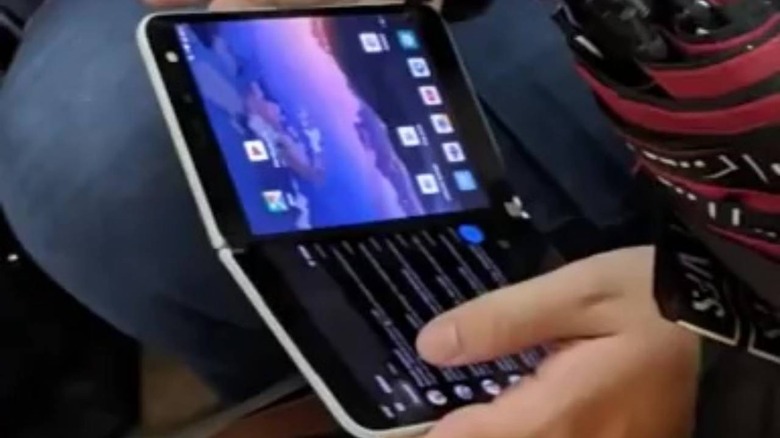 We're entering a second phase in the whole foldable smartphone march with the Motorola Razr and the upcoming Galaxy Z Flip. Once again, concerns about the overall benefits of such expensive and comparatively fragile phones are being raised. In the meantime, Microsoft is preparing its own take on that niche form with the Surface Duo and the Surface Neo and, as luck would have it, the former was already spotted in use out in the wild. Unfortunately, it also seems that it is far from ready as far as the software goes.
Microsoft already showed off working prototypes of the two folding devices so there's very little doubt it actually works, much less exists. One new detail from this leak seems to be the existence of an LED flash which, depending on how you hold the device, can be front or back-facing.
The real question is whether Microsoft can make software work properly on those unconventional devices. It recently released an emulator and SDK for Android app developers to begin their journey of supporting the Surface Duo. But based on a video of the device being used live, Microsoft itself may still have to do some heavy lifting on its end.
Android apps seem to run fine on the device in various modes, whether spanning both devices or in landscape while gaming. The user of the Surface Duo, however, seems to have had some issues with gestures to pull down the navigation panel or pull up the home screen in certain scenarios, suggesting that the operating system may still be a bit confused about the device's screens.
It's still early into the game if Microsoft's target is really the end of the year. Given how it almost looks ready, the Surface Duo might come out earlier than that. Of course, we don't know the state of the Windows 10X Surface Neo at this point and Microsoft may prefer to launch the two together instead.