Super Talent unveils speedy P55 DDR3 RAM for Intel Core i5/i7 platforms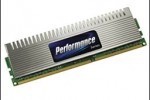 Super Talent makes all sorts of different products for the computer market. The most recently unveiled product from the company was a new SSD last week called the UltraDrive DX. Super Talent has now unveiled a new RAM offering for the Intel Core i5/i7 platform.
The RMA is available in several different kits, all of which are dual channel and optimized for the Intel P55 platform. The RAM runs at up to 2200MHz and is hand tested and tuned for latencies that increase performance.
The Ram is available in 4GB kits with latencies as low as 7-7-7-21 running at 1600MHz. Moving up to kits with 2000MHz speed the lowest latencies available are 8-8-8-24. The 2200MHz kit is good for latencies of 8-8-8-24 and a 2133 MHz kit is offered as well at 8-8-8-24. The kits will start shipping next week.