Super Talent unveils new UltraDrive MX2 SSD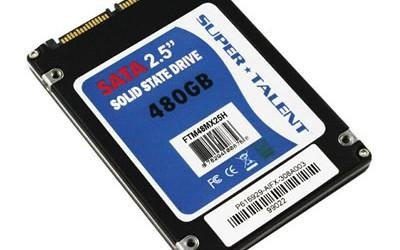 Super Talent has unveiled a new SSD for data storage called the UltraDrive MX2. The company says that it has combined a state-of-the-art controller with high-speed cache of off-the-shelf SLC and MLC NAND flash storage. The combination of the flash storage and the controller promises read and write speeds in excess of 200 MB/s.
The drive uses a 2.5-inch form factor and is available in capacities of 60 GB to 480 GB. All versions of the SSD have a 64 MB DRAM cache. Access time for this SSD 0.1ms. Like most SSDs, this new offering is very robust and is able to withstand significant vibration and shock without damage because there are no moving parts.
The drive can withstand 16 Gs of vibration and 1500 Gs of shock. The drive can also operate in a temperature range of 0-70°C and is rated for meantime between failure of 1 million hours. The SSD is quiet with 0 dB of noise production when active.
The drive has a three-year warranty on the SLC chips and the MLC chips have a two-year warranty. Other features of the drive include advanced error correction, wear leveling, and bad block management technologies to increase reliability. The drive has both mini USB and SATA II connectivity options. Pricing is unknown at this time.