Super Talent 32GB Pico USB drives are world's smallest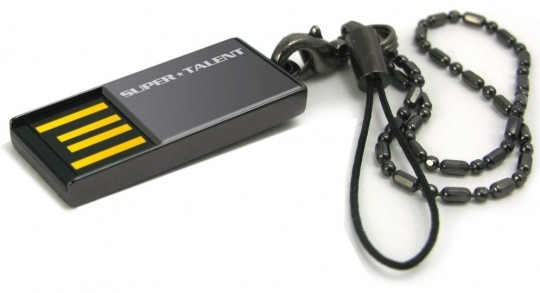 Super Talent have unveiled what they're describing as the world's smallest 32GB USB drive, squeezing 32GB of NAND flash into a water-resistant casing.  In fact, six new models are on offer with the new capacity, each boasting up to 30MB/sec transfer rates.
The first tier of models are the Pico C Gold, Pico C Nickel and Pico E Gold, with the former two having either nickel- or 24K gold-plated steel casings, and the latter having a 24K gold-plated sliding lid.  As for the second tier, those 32GB drives are available in the same finishes but include AES-256 hardware encryption.
All six will begin shipping this week, priced at $85 for the normal Pico drives and $99 for those with hardware encryption.  At their smallest they measure just 31 x 12 3 mm and weigh around 5g.