Super Talent 16GB, 32GB & 64GB SSD upgrades for ASUS Eee PC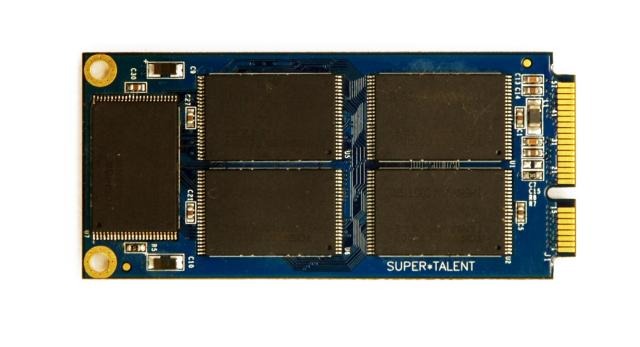 Super Talent have announced a range of upgrade mini PCI-Express SSDs intended for ASUS' Eee PC range. Available in three sizes, 16GB, 32GB and 64GB, the cards will work with the ASUS Eee PC 701, 702, 900, 901, 903, 905 and 1000 series models.
Both MLC NAND Flash and SLC NAND Flash versions are available, the former ranging from 8GB to 64GB while the latter come in 8GB to 32GB capacities.  Transfer speeds of the SSDs announced today are 40MB/sec read and 15MB/sec write.
The 16GB, 32GB and 64GB MLC cards are priced at $53, $79 and $149 respectively.  According to Super Talent Director of Marketing, Joe James, the company sees it as "a natural extension" of their SSD business to offer drives for "popular netbook brands", raising the possibility that they will announce similar memory for other netbooks such as the MSI Wind and Acer Aspire One.

Press Release:
Super Talent Launches SSDs for Asus Eee PCs

Up to 64GB Mini PCI-Express Cards Give Eee PC Users New Upgrade Options

San Jose, California – October 7, 2008 – Super Talent Technology, a leading manufacturer of Flash storage solutions and DRAM memory modules, today announced a new line of mini PCI-Express SSDs, available in 16GB, 32GB and 64GB capacities, that were designed explicitly for the Asus Eee PC.

Standard Eee PCs have maximum 20GB of storage. These cost-effective upgrade cards offer up to 64GB of solid state storage. Super Talent's Mini PCIe cards have been tested extensively with Asus Eee PCs to ensure performance and compatibility.

Super Talent Director of Marketing, Joe James mentioned, "It's a natural extension of our SSD product range to offer SSDs for popular netbook brands. Solid state storage is ideal for entry level mobile PCs". These mini PCIe SSDs are sampling now, and will be in mass production in November.

About Super Talent Technology

Super Talent Technology Corporation based in San Jose, California, designs and manufactures a full range of DDR, DDR2, and DDR3 memory modules and Flash based storage devices for computers and consumer electronics. An ISO 9001 certified company, Super Talent utilizes its state-of-the-art factory and leading-edge components to produce award winning products with outstanding reliability. Super Talent is an active member of the JEDEC and ONFI standards bodies, and holds over 200 patents in Flash and DRAM technology.

Pricing is approximate as of announcement date and may change without notice. Asus and Eee PC are trademarks of ASUSTek Computer, Inc. Usable capacity is less than specified after formatting.