Super Talent 128GB SSD breaks Sub $300 barrier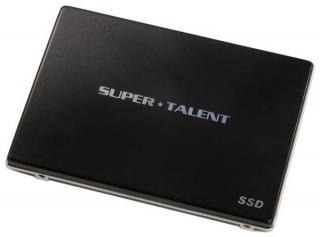 What $300 can get you these days for a dazzling fast hard drive? A 10k RPM 300GB VelociRaptor or you prefer a Solid State Drive with lesser capacity? Super Talent has introduced its most cost-effective pair of SATA-II SSD at affordable prices. The new MasterDrive LX series come in 64 and 128GB sizes and offer 3Gbps interfaces in a 2.5" drive format.
Both NAND multi-level cell flash based memories are capable of read/write speed up to 100/40 MB/s. It also features Integrated ECC, wear leveling and bad bit management functions to improve the reliability and lifespan of these SSDs. Each unit has an expected MTBF of over 1 million hours. Shipping this week, the 64GB and 128GB model will be offered at $179 and $299 respectively.