Super Smash Bros. Ultimate's next two DLC characters revealed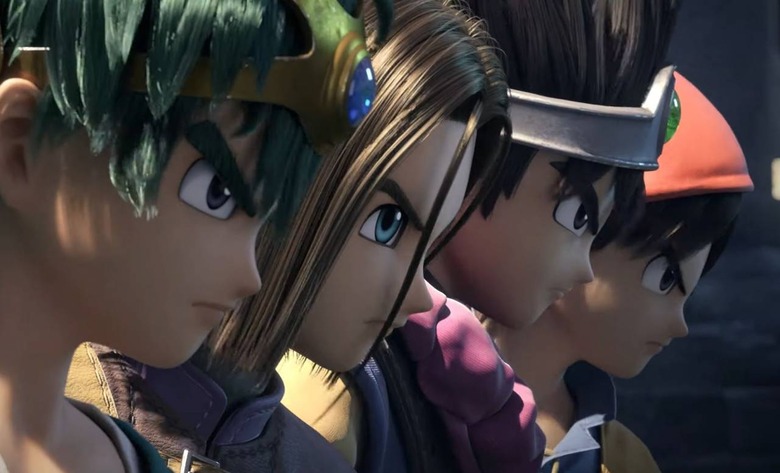 As promised, E3 2019 brought the reveal of the next two DLC characters for Super Smash Bros. Ultimate. Nintendo led its E3 Direct with news of the first one, which is the Hero from the Dragon Quest series. Though people who hate playing against sword characters will probably roll their eyes, adding Hero to Ultimate definitely makes sense given the impending launch of Dragon Quest XI on Switch.
The Hero's appearance can actually be changed just like Bowser Jr.'s can, and he can take the form of a number of different protagonists from the Dragon Quest series. It seems that Hero's main appearance is that of the protagonist from Dragon Quest XI: Echoes of an Elusive Age, but he's also got skins based on the protagonists from Dragon Quest III: The Seeds of Salvation, Dragon Quest IV: Chapters of the Chosen, and Dragon Quest VIII: Journey of the Cursed King.
The Hero from the #DragonQuest series will be joining Super #SmashBrosUltimate! Purchase the Fighters Pass now and prepare to take to the battlefield with your hero this summer.https://t.co/hJmYO8YgVN pic.twitter.com/1YzOEgEZmA

— Nintendo of America (@NintendoAmerica) June 11, 2019
Though Hero's moveset hasn't been detailed in much depth yet, it seems that it'll pay homage to Dragon Quest's turn-based RPG roots with an action menu that pop ups over his percentage meter. Hero can use the actions that appear here to perform different moves in-game, but we'll have to wait on more details from Nintendo before we know how, precisely, it all works.
Your favorite bear-bird duo, Banjo & Kazooie, is joining Super #SmashBrosUltimate! Grab the Fighters Pass and get ready for when Banjo-Kazooie arrive on the battlefield this fall. https://t.co/hJmYO8YgVN pic.twitter.com/tsypQJpdBC

— Nintendo of America (@NintendoAmerica) June 11, 2019
The second DLC character Nintendo revealed for Ultimate today is none other than Banjo-Kazooie. The pair have been one of the most-requested Smash Bros. fighters throughout the years, and after all those requests, they're finally joining the roster. Banjo-Kazooie, of course, made their debut on the N64, but with Rare being a part of Xbox Game Studios since 2002, their appearance in Smash Bros. always seemed unlikely.
Still, it looks like Microsoft is willing to let one of its characters appear in a Nintendo game, so brace yourself for a flood of rumors claiming that Master Chief will be next. Hero will be joining the game this summer, while Banjo-Kazooie will launch sometime in the fall. We'll look forward for more information – including details about the stages and music that will launch alongside these characters – so stay tuned for all of that.