Super Smash Bros. Ultimate Terry Bogard DLC is getting a 45 minute livestream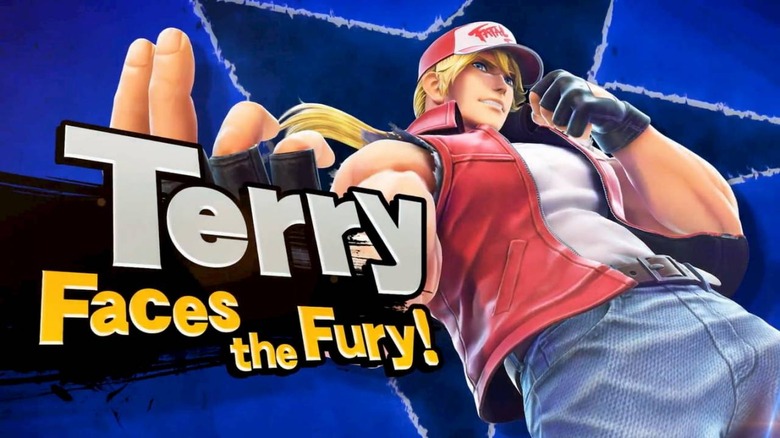 If you're looking forward to Super Smash Bros. Ultimate's next DLC character, then you'll probably want to mark tomorrow on your calendar. Nintendo has revealed that Super Smash Bros. Ultimate director Masahiro Sakurai will be hosting a live stream all about Terry Bogard, who will be the fourth DLC character for the game. Unfortunately, the livestream will take place very early in the morning for those of us here in the US, so some will have to set their alarms if they want to watch it live.
How early? Nintendo has scheduled the livestream for 5 AM PT/8 AM ET on November 6th. The livestream will last 45 minutes too, so be prepared to see Sakurai do a deep dive into Terry Bogard and what he's capable of. Sakurai will probably talk about the stage and the music that will be included in Bogard's Challenger Pack, so keep an eye out for that as well.
Join Super #SmashBrosUltimate Director Masahiro Sakurai on 11/6 at 5am PT for a roughly 45-minute video livestream featuring an in-depth look at upcoming DLC Fighter, Terry Bogard from the FATAL FURY series! pic.twitter.com/MPKUp0lkJs

— Nintendo Versus (@NintendoVS) November 5, 2019
Of course, most of us are hoping that we'll get a release for Terry Bogard during this live stream, as it's certainly the perfect place to announce one. The Super Smash Bros. Ultimate website says that Challenger Pack 4 is coming out at some point in November, but aside from that, more specifics haven't been revealed.
As always, you'll be able to watch Nintendo's livestream in a number of places. Nintendo will be streaming on YouTube – via the video embedded above – but it'll also be streaming the presentation on its Twitch channel.
Terry Bogard – who is the main character in SNK's Fatal Fury franchise and has appeared in every mainline Fatal Fury game to date – is the fourth DLC fighter included in Ultimate's Fighters Pass. Once Bogard releases, Sakurai and his team will release one more DLC fighter for the Fighters Pass, but recently, Sakurai confirmed that there will be more DLC characters developed beyond this initial batch of five. Nintendo has already confirmed that tomorrow's presentation won't have any details on other upcoming fighters, so it looks like the sole focus will on Terry and his capabilities.