Super Smash Bros. for Wii U may well be the most hotly anticipated Nintendo title for the holidays, and so the Japanese gaming firm isn't stinting on features. The game will include a whopping eight player "Smash" mode during which players will be able to compete simultaneously in local multiplayer on specially-enlarged stages, as well as the ability to create custom stages and – eventually – share them with other players. Meanwhile, there are some benefits for those who have Super Smash Bros. on both Wii U and 3DS, too.
For instance, those with the 3DS version will be able to use their handheld to control the Wii U version on the TV, if they so wish. They'll also be able to import their custom 3DS fighters into the Wii U game, along with any customized costumes, hats, and equipment.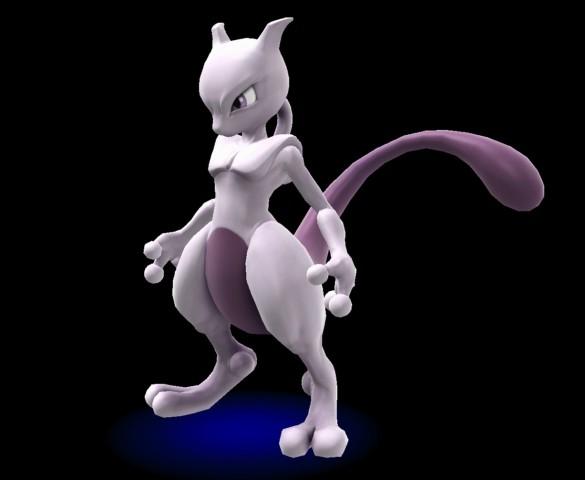 There'll even be a special character only available for those who double up with both versions. Anybody who picks up the 3DS and Wii U titles and registers them on Club Nintendo before January 13th, 2015, will get special Mewtwo fighter to download free in the Spring of next year. They'll also receive a two-disc soundtrack of music from the games.
Figures play a key role in Super Smash Bros., both virtual and real. Nintendo's amibo figures will, when tapped against the Wii U GamePad, join in the action as a "figure player"; they'll get stronger as they win battles, Nintendo says, and even bring the player presents from each round.
Forty characters with be offered from the start, with the same moves as per the 3DS game, and there'll be Ridley making an appearance for the first time. By attacking Ridley, players will be able to temporarily bring him onto their side, as well as gain more overall points by KO'ing him.
In addition to the eight-player Smash mode, there will be seven other modes to play in:
Smash Tour: World Smash is a fighting party game that looks like a board game. Players use items, spin a wheel and advance around the map. Up to four players can compete at once as they navigate the board and gain fighters and power-ups they can use in a final battle.
Special Smash Mode: Players can customize battles with unique parameters.
Coin Battles: Players compete to collect coins from other players.
Stamina Matches: Players fight until their hit points reach zero.
Classic Mode: One or two players fight through a series of battles and advance as long as they survive. Many random events can shake things up, and players can adjust the intensity settings. The more difficult the game, the greater the rewards.
All-Star Mode: Like in the Nintendo 3DS version, opponents appear in chronological order. Only this time, the newest fighters appear before the older ones, and two players can battle through this mode together.
Event Mode: One or two players take on set character- and theme-based battles. Clearing stages helps players see the way forward.
Meanwhile, various back stories for characters, movies, and different tunes will be included.