Super Mario Maker 2 update adds Link's Master Sword, new course parts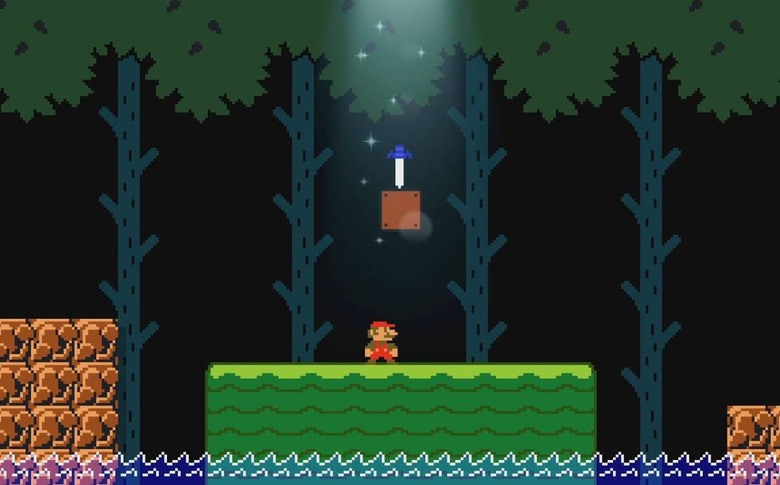 A new update has been announced for Super Mario Maker 2, and it has a number of new course elements that players will be able to do a lot with. The contents of the new update were revealed in a trailer today, with a number of familiar Mario characters joining the fray. Chief among the new course parts, however, is the Master Sword from The Legend of Zelda series.
The Master Sword is only compatible with the Super Mario Bros. theme, and finding it in the world will turn Mario into Link. In that way, it's reminiscent of the amiibo costumes we had in the first game, but the Mario Maker 2's Master Sword takes things one step further by granting Link's capabilities to Mario.
Once you turn into Link, you'll be able to swing Link's sword, block projectiles with Link's shield, and perform dash attacks or down thrusts. You'll also have access to Link's bow and bombs, so we'll undoubtedly see plenty of puzzle levels built around the Master Sword. Hopefully it won't be long before we see more items from other famous Nintendo games added to Super Mario Maker 2.
Shipping alongside the Master Sword is a new game mode called Ninji Speedruns. In this mode, you'll be able to compete with other players for the fastest completion time in a number of Nintendo-made courses. You'll see ghosts of other players' runs – represented by Ninji – as you play, giving you an idea of where you need to improve in order to snag the record.
Some of the course elements being added in this update include the iron-ball spitting Spike, Pokey (which begins flying in night mode), the Frozen Coin, the P Block, and the Dash Block – which is only available in the Super Mario 3D World theme. With the update releasing on December 5th, we've got a few days left to wait before it arrives, so start thinking about how you'll integrate these new parts into your courses.