Super Mario Maker 2 arrives for Nintendo Switch in June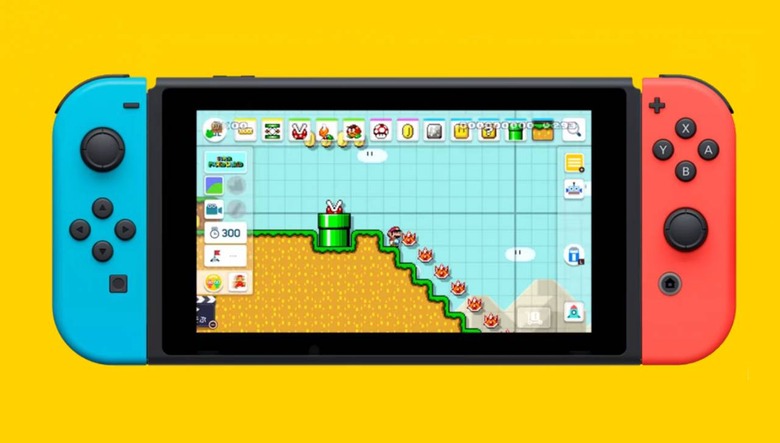 Nintendo has taken the wraps off Super Mario Maker 2, the next version of its popular game creation system. The upcoming version is currently in development and will launch for the Nintendo Switch console this June, the company revealed during its Nintendo Direct presentation this afternoon. The game's preview reveals a few details about the upcoming release, and Luigi makes a brief appearance in a builder costume.
Super Mario Maker was originally released in 2015 for the Wii U, later arriving for the Nintendo 3DS in 2016. The game creator has proven wildly popular among Mario fans, who can use the system to create and play their own game levels. The highly anticipated sequel will be released in June.
Build and play the Super Mario courses of your dreams! This sequel features a host of new tools and features—like slopes! #SuperMarioMaker2 launches exclusively for #NintendoSwitch this June. pic.twitter.com/qrnkzjbid8

— Nintendo of America (@NintendoAmerica) February 13, 2019
The upcoming version will be available exclusively on the Nintendo Switch, bringing with it entirely new features, according to Nintendo. "There will be brand new features and many new elements are in development as we speak, so please stay tuned," said Nintendo's Yoshiaki Koizumi. Unfortunately, very few details about the game were provided.
In the video thumbnail shared by Nintendo on Twitter, both Mario and Luigi are present, both wearing builder costumes. Though the preview video primarily centers around Mario, Luigi has his own brief moment in the spotlight, as well.
Elements from the original game are present in the Super Mario Maker 2 teaser, which takes a moment to scroll through menus and show off the new slopes feature. Different Mario eras are present ranging from retro to modern. It's likely Nintendo will have more to show in the near future, but until that time, the exact changes remain a mystery.