Sungjut TangoX Nano UMPC with phone and tablet built in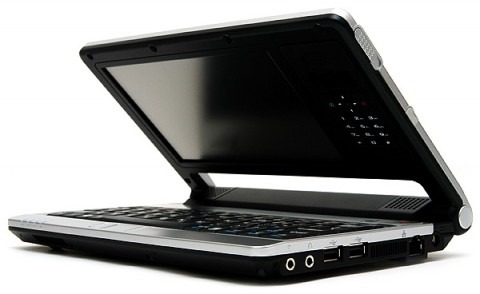 We did a story not to long ago about VIA's NanoBook which looked unmistakable from this notebook. Except VIA's model didn't have a phone built in, it was more of a clock/alarm/thermometer type of thing, other than that and the name just above the keyboard, I can't tell the difference.
Anyways, the TangoX Nano has a VIA C7-M ULV processor running at 1.2GHz, 1 gig of DDR2, your choice of a 40 or 80 gigabyte HDD, HD audio, a 7" 800x480 touch-screen. There is also a card reader, Ethernet NIC, WiFi in A/B/G flavors, 2 USB 2.0 ports, DVI out, and the removable, yet built in, Skype/VoIP phone that you see next to the screen.
It is mere millimeters larger than the Eee and weighs an unnoticeable .05Kg more than the Eee. No word on price, but it doesn't look like you'll be able to get one outside of Korea anyways.
[via AkihabraNews]