Subaru BRZ STI concept looks nothing like the production car sadly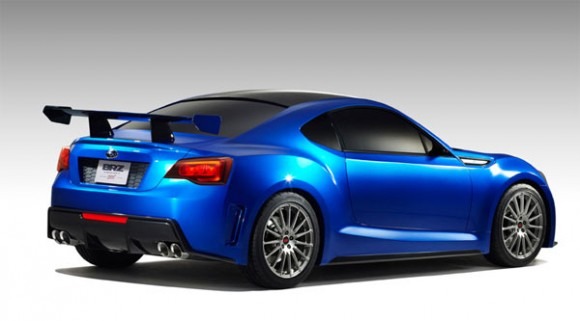 I admit I saw this Subaru BRZ STi concept car noted the rear-wheel drive and light weight and got a little excited. It looks really cool and will have an engine with more power than its siblings in the Toyota and Scion livery. This is the one of the first RWD cars that some of these brands have had in a long time since Subaru is known for AWD, and Toyota and Scion go for more FWD cars.
All the flares actually look really good to my eyes and then the sad comes in. Apparently, Subaru has the concept covered 100% in body panels that will never see production. We do have some specs of the car to check out. The three different versions will apparently each weigh in at a lithe 2662 pounds, which is about 1000 pounds lighter than the RWD Ford Mustang GT. The Toyota and Scion versions will reportedly have around 200 hp.
That isn't much power at all, but the car is very light so it should have decent performance. The Subaru BRZ STi flavor is said to get more power with an extra 100 hp putting it near 300 hp. That should make for impressive performance. Subaru also hints that the car will be a handling demon. It's hard to tell from this photo, but I wonder if this is a coupe with a tiny rear seat or a two-seat ride. I'm betting it has small rear seats.
[via Jalopnik]