Studies show the iPhone is the number one Wi-Fi device in the US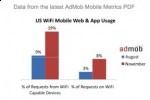 Mobile advertising marketplace, AdMob, has released a report that shows growing Wi-Fi usage in the US and the UK.  Worldwide the iPhone requests grew 52 percent to 359 million in November to give the iPhone 6.3 percent of total requests and 9.9 percent of US requests.
The iPhone takes the lead in most Wi-Fi usage in the US with 43 percent of requests coming over Wi-Fi rather than the mobile operator network. Other smartphones such as the BlackBerry and the new T-Mobile G1 will continue to grow in the coming months. Devices such as the iPod Touch and Sony PlayStation portable (PSP) are also generating significant Wi-Fi traffic.
The November 2008 report also states that iPhone Wi-Fi usage is generally higher on iPhone specific sites and applications than on normal websites. In the UK, the Nokia N95 and other N-series handsets are the leading Wi-Fi devices. Worldwide in November there were 5.8 billion total requests.  North America, Western Europe, Latin America, and Eastern Europe's requests are increasing by 10 percent each month.  The new T-Mobile G1 has managed to generate 15 million requests in November alone. The G1 already represents 7 percent of all T-Mobile's traffic and 2 percent share of smartphone operating system traffic in the US.