ST&T HD Media Link system streams video over electrical wires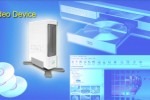 Home networking gear for computers and other Internet connected devices that use the electrical wires in your home have been around for a while. A company called ST&T Electric Corporation in Taiwan has announced a new media system for the home called the HD Media Link system HDAV 6490 that can send HD video from sources around the home using the exiting wires in the home.
The device allows users to connect various HD sources to HDTVs or projectors around the home with having to install wires or set up complex extenders or other devices. The device also can pass infrared remote control commands over the home power lines allowing users to operate components in other rooms.
The device uses the Intellon INT6400 IC promising the lowest power consumption of any 200Mbps PHY-rate HomePlug AV-Class IC. "This unit allows you to move video or game content from Blu-ray players, digital video recorders, network drives, PCs, game consoles and the like from one location in the home to a TV located in another room," said Rick Furtney, president and COO of Intellon Corporation. "By integrating our INT6400, the unit provides reliable connectivity and entertainment-grade video at a lower cost than professional installations or other more complicated solutions."