Street Fighter 5 season 3 wraps up with two new fighters today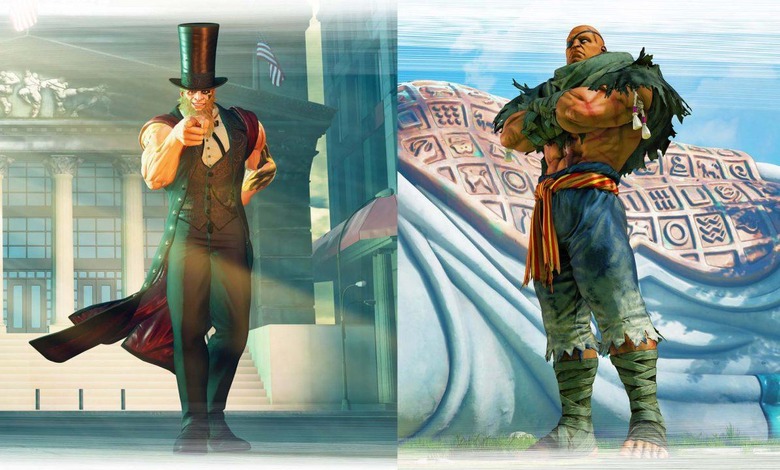 Last night at Evo 2018, Capcom took the stage to make a surprise announcement: Street Fighter 5: Arcade Edition's season 3 character lineup is wrapping up with two new fighters. Many fans probably expected the season to end with the addition of just one character, making this a pleasant surprise for Street Fighter adherents and one that got the crowd at Evo amped up. Perhaps even more exciting is the fact that these two new characters are available beginning today.
Capcom's Toshinori Ono debuted both characters on stage during the popular fighting game event last night. The first character coming to Street Fighter 5: Arcade Edition is G, the self-proclaimed "President of the World." G's appearance has a few things in common with that of Abraham Lincoln, including a moustache-less beard and a tall top hat.
Abraham Lincoln, we're guessing, didn't quite have the fighting prowess of G. G's abilities can all be improved by increasing his Presidentiality level during a match, which is accomplished by using G Charge and absorbing power from the Earth. His V-Trigger moves include Maximum President and Dangerous President and, in keeping with the idea that he pulls his power directly from the Earth, both abilities are magma-themed.
While G is certainly one of more unique Street Fighter characters, he'll be joined by one of the oldest. Sagat, a fighter who has been around since the very first game in the franchise, is also arriving in Street Fighter 5: Arcade Edition today. We'll also see the addition of King's Court as a new stage, which is a modern "reimagining" of Sagat's stage from Street Fighter II.
There are a few different ways to buy each of these fighters. Buying them individually will cost you $5.99 or 100,000 Fight Money each. You can unlock both of them by picking up the season 3 character pass for $29.99, which also includes Sakura, Blanka, Falke, and Cody. Sagat and G will both be available today, so keep an eye out for them.