Store Leak hints Canon Mark III N coming to PMA 2009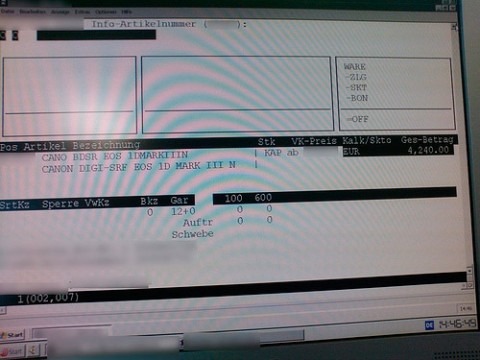 A recent German store catalog has slipped though a photography community forum and the screen shot of it indicated an EOS-1D Mark III N listed in the store inventory system. There weren't any technical details to support the claim but a price tag of 4,250 Euros ($5,637) with the associated model. Could it be true? Will we see this overdue Mark III N in the upcoming PMA 2009 this March?
Given to the usual Canon timeline of 18 months production life-cycle for Professional series DLSRs, last year Photokina was meant for the rebirth of Canon Mark III with minor upgrades, and could have a completely redesigned Auto Focus system to ease the angry mob, but that didn't happen.
Canon 1D, announced 09/2001
Canon 1D Mark II, announced 01/2004, 37 months later
Canon 1D Mark II N, announced 08/2005, 19 months later
Canon 1D Mark III, announced 02/2007, 18 months later
Canon 1D Mark III N ??
With recent success on the other side, and considering the relative troubles of the on-going Mark III snafu, i've seen my share of professional photographers switching (back) to Nikon. Makes no mistake, Canon can't possibly sit still and letting core working pro drifts away to its biggest competitor? We are likely to see a Mark III successor in the upcoming PMA 2009, if not an upgrade variant "N" of the high speed flagship. The question is will they phase out 1.3 crop sensor, pushing Full Frame on all 1 series bodies, better yet, adding motion capture with a full-feature aperture control?