Steve Jobs: "No Interest" in Radiation Detection App

If you are concerned with radiation levels coming from your cell phone, you can measure it if you have a BlackBerry or an Android phone, but not (officially) with your iPhone. Israeli developer Tawkon has been repeatedly rejected by the Apple App Store, and now has been personally refused by Steve Jobs in a two-word email: "No Interest". So now, Tawkon has posted instructions online through Cydia and on its website to download the app.
The app measures cellular radiation emissions from your phone, and points to areas in your home or office where you may be exposed to higher radiation levels. The app was available on BlackBerry's App World last spring, and posted on Google's Android Market in September. But despite "great discussions with senior Apple executives at their Cupertino headquarters who praised our app functionality and graphic appeal", according to Gil Freelander in a blog post, the app was still rejected.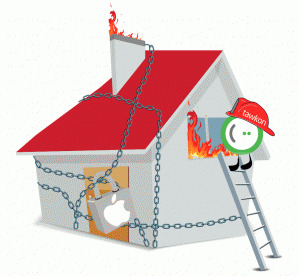 In addition to posting the app for download on Cydia, Tawkon also has an email form on its site to send a message to Apple asking for the app to be made official.
If, while using the app, you see that radiation levels are high, you can change location, use the speakerphone, hold the phone vertically, or use a headset.
The email Tawkon says it received from Steve Jobs is below: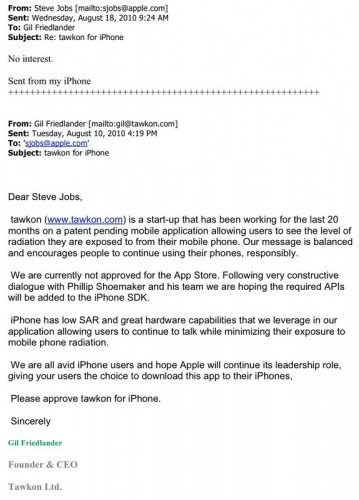 [via PC Mag]