Steve Jobs: iPhone 4 "is just a phone" [Updated]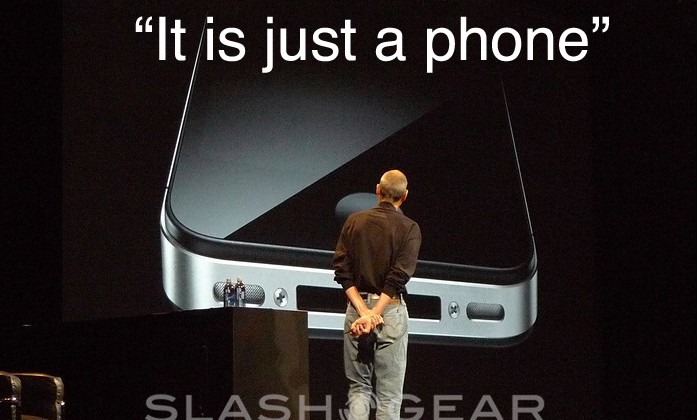 Of all the things you might expect Steve Jobs to say about the iPhone 4, "It is just a phone. Not worth it" probably isn't the first thing that would come to mind.  As the Apple CEO continues to respond to increasingly irate iPhone 4 owners, frustrated by their antenna experiences, his counter-arguments are getting more and more blunt.  After posting a demo of the iPhone 4 reception problem on YouTube, being subsequently contacted by Apple, and then taking things up with Jobs and an Apple engineer directly, a BGR reader was supposedly told by the outspoken exec that he should "calm down" after "getting all worked up over a few days of rumors."Updated: Apple PR say this email exchange is a hoax; more here.
Jobs suggested that the issue was being in an area of very low signal strength, and when that didn't work somewhat cryptically explained that "You may be working from bad data. Not your fault. Stay tuned. We are working on it."  Then came the final, unexpected touch: an email saying "Retire, relax, enjoy your family.  It is just a phone.  Not worth it."
Now, the full email exchange did get pretty heated – not from Jobs' side of the conversation – but it's certainly nothing we haven't heard expressed elsewhere on Apple Support forums, the comments here on SlashGear and across the internet.  Jobs likely meant to imply that customers have plenty of choices for their preferred smartphone, but it does come off sounding unnecessarily dismissive.