We've already seen Ashton Kutcher's extremely close resemblance of Steve Jobs in the upcoming biopic jOBS, which is set to debut on January 27 at the Sundance Film Festival. However, we haven't seen any photos of actor Josh Gad all dressed up as Steve Wozniak, until now. A couple of new photos from the movie set reveal Gad's similarities to classic Woz.
While Gad naturally doesn't look anything like Steve Wozniak, let him grow out his hair, slap a beard on him, as well as some glasses, and you have a close resemblance of Steve Jobs' sidekick. Both Kutcher and Gad portray the two Apple geniuses during the company's budding days in the 1970s and 1980s.
Obviously, many people know who Ashton Kutcher is, but Josh Gad is a less well-known name in the entertainment industry. However, you've most likely saw him in at least one movie or TV show in the past. He starred in the 2008 film The Rocker with Rainn Wilson, and also made single-episode appearances in New Girl and Modern Family. His newest role besides jOBS is starring in a new NBC comedy called 1600 Penn, where he's also the co-creator and executive producer.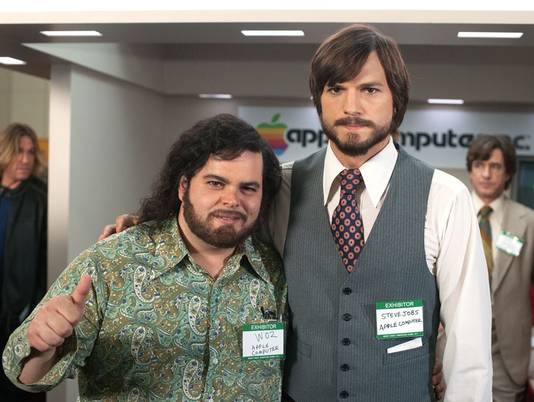 Other well-known names that will be starring in the upcoming Steve Jobs biopic include Dermot Melroney as Mike Markkula, J.K. Simmons as Arthur Rock, and James Woods as Jack Dudman. Out of the rest of the bunch, J.K. Simmons is probably the best known. He starred in numerous films and is well known for his loud and outspoken acting style in Spider-Man as the newspaper editor. jOBS will make its nationwide debut in April of this year.
[via USA Today]