Stem Innovation outs new Time Command Mini iOS alarm clock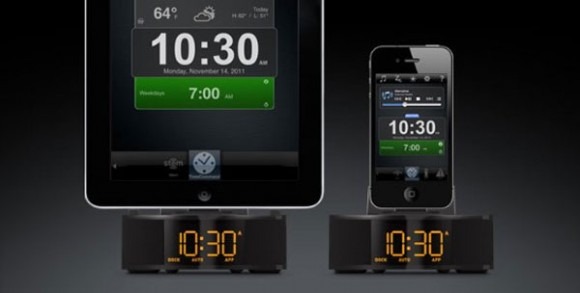 If you are the sort that has a bunch of crap laying on your beside table or desk, but you want an iPhone or iPad alarm clock this one might interest you. It's called the Stem Innovation Time Command Mini. This is one of the smallest iPhone and iPad docking alarm clocks I have seen. It's barely wider than the iPhone and will still dock the much larger iPad.
The clock interfaces with the iPhone and iPad via the Stem:Connect app. The app automatically transfers the time and alarms form your iOS devices to the clock. The docking connector pivots to work with iPhones and iPads in cases or without cases. Being able to dock with a case on your phone is a big deal. The little clock has speakers for playing your music too.
It allows you to pick your alarm source from audio from your docked device or normal alarms. It also plays sounds to help you fall asleep. The Time Command Mini sells for $79.95. You can pick one up in Apple retail stores today.