SteelSeries Sensei Fnatic Limited Edition mouse and 7H headset official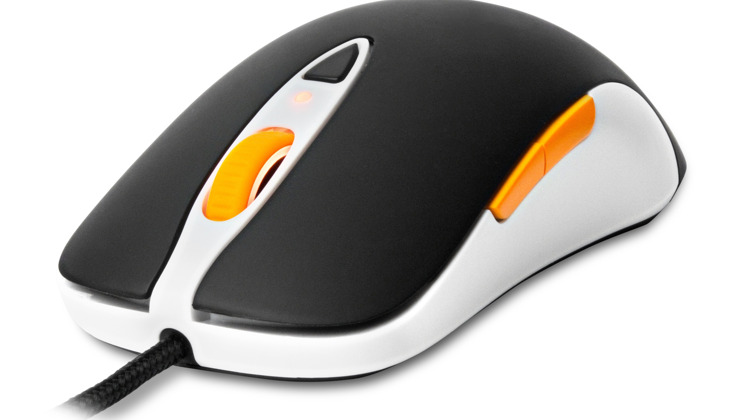 This week over at Dreamhack Winter in Jonkoping Sweden, the folks at SteelSeries have revealed two lovely black, white, and merigold (or orange, if you prefer) pieces of equipment, one limited edition Fnatic Sensei mouse and one 7H Fnatic limited edition headset. You'll find first of all that both of these devices have an interestingly unique look to them, then you'll find that their quality in attacking the gaming world is of course second to none. Inside the headset you'll find 50mm dynamic driver units and SNDBlock ear cushions for sound isolation. Inside the mouse you'll find a 32 bit ARM processor for its ExactTech settings and full customization abilities.
The mouse has a light-up Fnatic team logo and contains the ability to be the most customized mouse on the market. For example the logo and the rest of the lighting on the device has three zones of 16.8 million color illumination options. Light it up in green if you're using it with a computer with an NVIDIA processor, for example. Inside you'll also find a 32 bit ARM processor for calculations on the mouse itself, you needing no software drivers to do so, no computer needed! Of course you'll need a computer to do anything with the mouse, but have a peek at this: sensitivity settings that can be changed in increments of one from 1 to 5,700 CPI and an "overclocked" Double CPI that'll let you bump it all the way up to a massive 11,400 DCPI. This mouse will cost you a cool $99.99 / €99.99 MSRP.
For the products above and below, find out more about how to purchase at SteelSeries.
The headset contains 50 mm dynamic driver units for fabulously detailed and rich sound, fabulous "mood setting music" as they say, and critical 3D positionable sounds and alerts. The padding around your ears is made to block out all ambient noise and the SNDBlock hybrid ear cushions as they're called are made of both cloth and leather. WHat we've got here is sound isolation from the inner leather layer and comfort for your head with the outer cloth layer. You can dismantle the whole set into four pieces for compact transportation and ease in cleaning if that's something you do with your headsets, and the whole set will cost you right around $139.99 / €114.99 MSRP.