Steelseries Apex M800 Keyboard Review
EDITORS' RATING: 6/10
When it comes to desktop keyboards, there are generally two types to choose from. There are those with the typical rubber-dome keys, and those that use mechanical switches. Gamers tend to gravitate toward the latter for many reasons, and the latest keyboard from Steelseries takes a different approach to the mechanical keyboard.
Overview
When you think of a mechanical keyboard, you probably think of big keys and loud clacking sounds. The Steelserises Apex M800 has neither of these features, but that doesn't mean that it's not still a mechanical keyboard. Rather than using Cherry switches, SteelSeries created their own new switch, which they say has "25% faster actuation" than the competition. In theory, this means that your movements and commands in-game should be faster as a result.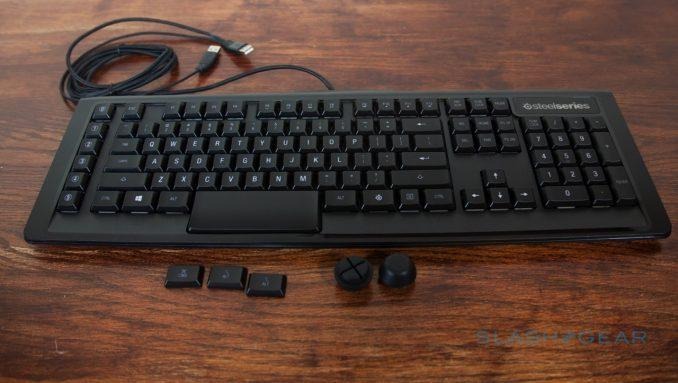 First Look
The first thing I noticed about the Apex M800 was just how thin the keys were. To give you an idea, the keys are only around 1/4" tall, as opposed to a typical Cherry key, which is roughly 1/2" tall. Other notable features were the 6 programmable keys on the left, and the extra large space bar, which is twice as thick as your average space bar.
In the back of the keyboard are two USB 2.0 ports for plugging in a flash drive or a controller. What's really nice is that the front of the keyboard is elevated slightly, which allows cables to be easily ran from the back of the keyboard out to the front. This is particularly useful when you want to use a controller in conjunction with a keyboard/mouse setup.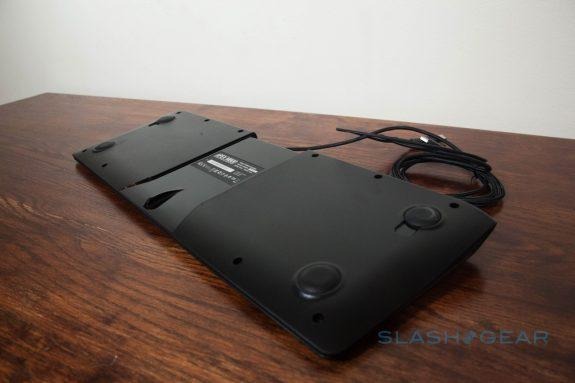 One strange feature that Steelseries chose was removable rubber feet on the bottom of the keyboard. Typically, a keyboard will have feet that flip out in the back. These allow you to adjust the angle of the keyboard with relative ease. Well instead of this, Steelseries has included two sets of removable rubber feet. This allows you to have three different angles (if you include using the keyboard with no feet attached) which is nice. However, the two feet I'm not using will no doubt get lost over time.
Software
Steelseries uses the same software to control virtually all of their new hardware, so you'll recognize the SteelSeries Engine 3 from our recent review of their Rival 700 mouse.
For the Apex M800, the software is pretty straight-forward. You can use it to easily reprogram any key, and setup any macros that you'd like. You can also adjust the illumination of the keyboard on a per-key basis. What's more, there are lots of ways that you can customize the pattern of illumination. And if you're not particularly creative, they've included a bunch of templates that you can select. You can even setup specific color schemes that will activate when certain games are launched.
If you're wanting to kill a little time between matches, you can even play games like Minesweeper, Centepede, and Lights Out, using the LEDs on the individual keys. It might not be the biggest feature to come with a keyboard, but it can add a bit of mindless fun while you're killing time.
Functionality
With shorter keys, and and a shorter action, Steelseries wants to give you the best edge that they can in every game you play. I'd say that in my experience, the fact that I only barely need to press on a key for it to fire has helped me out during Overwatch matches. It's not a huge difference by any means, but sometimes that split-second edge is all you need to defeat the enemy.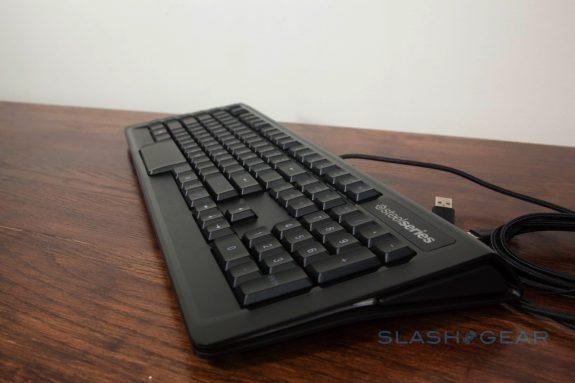 Unfortunately, these QS1 switches are a bit of a double-edged sword. I've found myself misfiring more frequently than with other Cherry-based keyboards. Sometimes I'll set my finger on Q when I'm about ready to unleash my ultimate attack, and I'll accidentally trigger it. Over time, this has happened less and less, just because I've gotten used to the more sensitive keys, but it's definitely something to watch out for.
Another issue with these switches is that I've found that I make more mistakes when typing. I've used this keyboard for around 3 weeks now, and even as I write this review, I'm finding myself making a fair number of mistakes as I type. So while it might be a great keyboard for gaming, it's not something I would recommend to someone that types more than they game.
Conclusion
SteelSeries appears to be targeting twitch-based games with their Apex M800 keyboard, and I'd say that it does a great job in those scenarios. You only need to press the keys 1.5mm before they're registered, and that can be the difference between making the kill and being killed. Every key can be remapped, and comes with its own individual LED, which can be customized. I find the lack of dedicated media keys a bit disappointing, but you can use some of the F-keys to accomplish this, if you don't mind hitting an extra key at the same time.
When it comes to typing, I've had trouble adjusting to this one, unfortunately. Obviously, I can still do plenty of typing on it, however, I greatly prefer typing on a keyboard with Cherry switches instead. For $169 the Apex M800 is a very expensive gaming keyboard. It does seem to give a slight edge in twitch-based games, but there are a number of drawbacks that outweigh the pros.