Following yesterday's promise, gamers who don't mind things a bit gritty can now head over to SteamDB and download the release of SteamOS. As anticipated, the release is a beta offering, and because of the operating system's Linux underpinning, it is recommended only those who are familiar with the OS opt to download. The download comes in at 960MB, and is currently unavailable due to traffic load.
SteamOS, featured below, is based on Debian, and so those familiar with the Linux distro shouldn't find this beta download to be much of an issue. The first version of this game-centric fork is known as "Alchemist," which is presently available to nab from Steam Database. As with all new beta software, there are sure to be issues that crop up and need ironed out, but as far as hardware requirements go, there's little barrier to entry.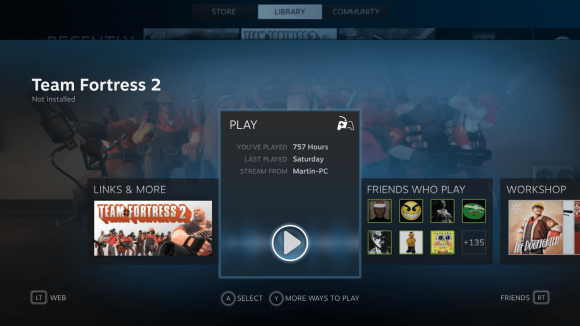 In order to run SteamOS, you need to have either an AMD or an Intel 64-bit capable processor, as well as a minimum of 4GB. Your hard drive needs to have a capacity of at least 500GB, and only NVIDIA graphics cards are supported at the moment, though it is promised Intel and AMD support is incoming. Round out is UEFI boot support, and the need for a USB port install.
CES 2014 is coming up fast, and during that time we're going to see some Steam Machines, with a few of them already having made their debut — namely, iBuyPower's offering, as well as machines from a couple others. Next month, Valve will be holding a developers conference during which things like the Steam Controller, the Steam Machine, and more will be covered. According to SteamDB, some of the sessions that take place duing the event could be made publicly available online.
VIA: Engadget
SOURCE: Steam Database Blog