Steam Summer Sale enters final day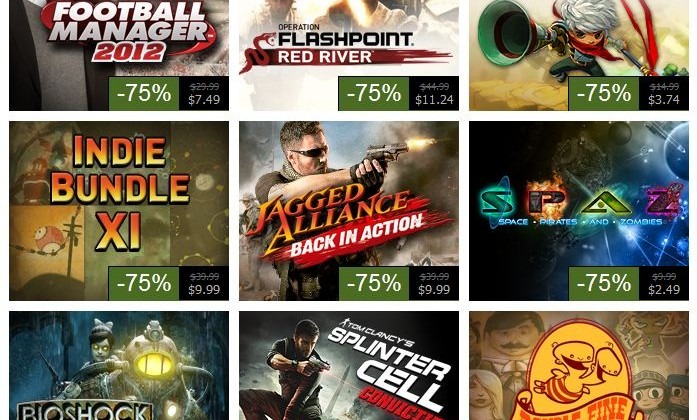 This is it, folks. The Steam Summer Sale has entered its eleventh and final day, so in less than 24 hours, it'll be time to say goodbye. While that will likely be a relief for most Steam users, there are some tempting featured deals on offer for those who haven't purchased quite enough yet. As always, there are also flash deals and community choice deals up for grabs, so even though we've entered the final hours of the event, there are still plenty of sales to take advantage of before things wrap up entirely.
All of today's featured deals are a whopping 75% off, with indie gem Bastion at $3.74, Space Pirates and Zombies at $2.49, Football Manager 2012 at $7.49, and Splinter Cell: Conviction at $4.99. Indie Bundle XI – which features Hydrophobia: Prophecy, ORION: Dinosaur Beatdown, Star Ruler, Waveform, and World of Goo – is down to $9.99, while the Double Fine Bundle brings Psychonauts, Stacking, and Costume Quest together for $7.49. BioShock, Operation Flashpoint: Red River, and Jagged Alliance: Back in Action round out today's featured deals, with BioShock looking especially good at $4.99.
At the time of this writing, Just Cause 2 is $3.74 as the community choice deal. Legend of Grimrock (which we highly recommend) is $5.99 for the next three hours as a flash deal, while other flash deals include Modern Warfare 3 for $29.99 and Assassin's Creed: Revelations for $13.59. You'll need act quick though, because all of those deals are ending in just a few hours.
It's been a pretty exciting ride, but we have to admit that we'll be thankful for an opportunity to put our wallets away and give our credit cards a much-needed rest. It won't be long before we're back at it again, however, as this means that the inevitable Steam Holiday Sale is now just five short months away. What did you pick up during the Steam Summer Sale this year? Leave us a comment detailing your haul below!