Steam finally lets you permanently delete games from your library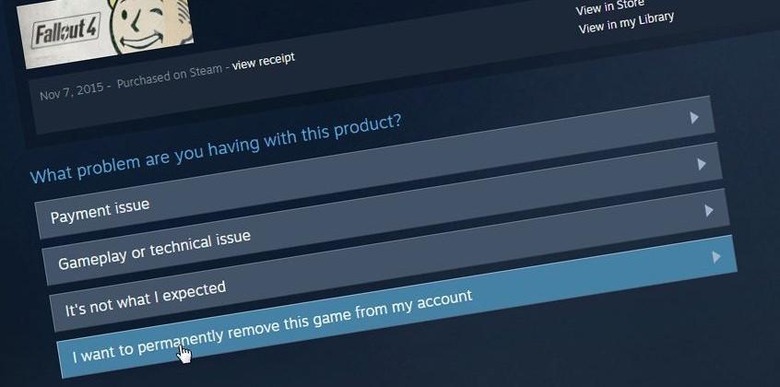 Valve's Steam has turned into a behemoth of a digital marketplace for PC games, selling just about any title that sees release today. That means some gamers have amassed huge collections, including games they may never play again, or never really wanted in the first place, whether they were bundle extras or redeemed gifts. Unfortunately, Steam has never really made it an option to delete a game from a user's library. Until today.
As users on the site NeoGAF have pointed out, it's finally possible to have a title permanently deleted from the game library. Steam users aren't granted a refund, mind you, but it's a way to have a game no longer associated with their account. Think of it as the digital equivalent of taking a physical game and throwing it in the trash.
To rid oneself of a title, users just need to navigate to Help, Steam Support, choose the game, select the option "I want to permanently remove this game from my account," then confirm with "Ok, remove the listed games from my account permanently." Poof! It's gone for good.
There are a few things to note, however. Games that were purchased as part of a bundle can't be removed individually, unfortunately, whether it was from a Steam bundle or unlocked with a single key. The only way is to delete the entire bundle.
VIA PC Gamer
SOURCE NeoGAF