Steam Community Market rolls into beta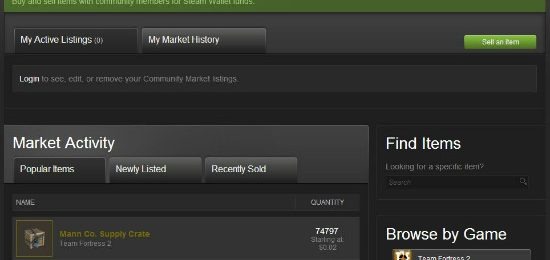 Valve has been rolling out a lot of new features for Steam lately. Big Picture Mode just recently came out of beta, while Valve is currently beta testing Steam for Linux with some members of the community. There's yet another beta being rolled out today, this one for Steam Community Market, which allows Team Fortress 2 users to buy and sell their consumable items with other players using funds from their Steam Wallet.
At the moment, Steam Community Market is only available for Team Fortress 2, but Valve says that more games will become compatible as we head into 2013. Team Fortress 2 will find that they can now sell off the consumable items they have on-hand, including things like Mann Co. supply crates and crate keys, tour of duty tickets, paints, and name tags. Valve has set up a handy little FAQ to answer any burning questions you might have and discuss some of the finer points of the Steam Community Market, like fees.
Those who purchase items through the Market will have to pay a 5% "Steam Transaction Fee" on each item as a way for Valve guard against fraud and cover the cost of the Market's continuing development. If you want to buy and sell on the Market, it's required that Steam Guard has been enabled on your account for the last 15 days, and that you've made at least one successful purchase through Steam "between 30 days and one year ago." Valve has the Market hub up and running in the Community tab of Steam, which shows the items that are available and their lowest prices – don't expect to get rich selling supply crates, as those start at just two cents a pop.
So there you have it – just like that, Steam has expanded community trading to allow users to buy and sell items. Provided you can get the right items to sell, you might just be able to rack up some cash to put toward your next game purchase. We're excited to see where this goes after we're into 2013, so keep it here at SlashGear for more details!