Steam Awards winners for 2018 revealed with few surprises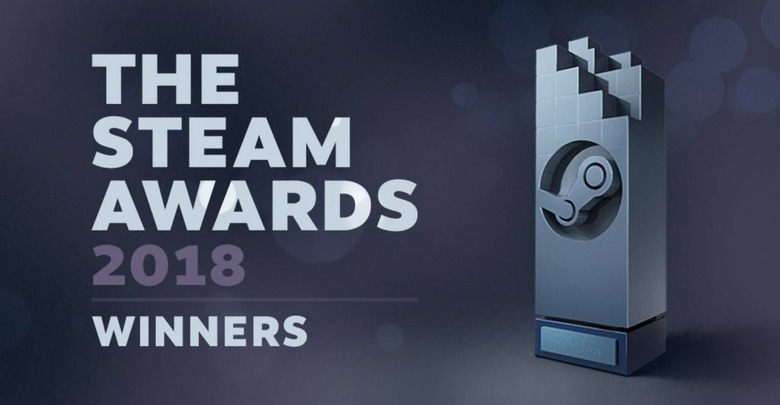 At the tail end of last year, during its annual Winter Sale, Steam had its users vote on the best games of 2018. There were eight different categories in all, each with a number of different games in the running. Today, Valve revealed the winners of each category, and if you regularly peruse Steam's top sellers lists, you probably aren't going to be surprised by the games that won.
That's because most of the games that took home an award rank among Steam's most popular titles. Game of the Year, for instance, was PlayerUnknown's Battlegrounds, despite the fact that it was technically released on PC at the end of 2017. PUBG went up against Monster Hunter: World, Kingdom Come: Deliverance, Hitman 2, and Assassin's Creed Odyssey for Game of the Year. Meanwhile, the award from VR Game of the Year ended up going to Skyrim VR despite some stiff competition from the likes of Beat Saber and Superhot VR.
From here, the categories start to become a little strange, as they're more open-ended ones that include games released before 2018. The Labor of Love award, for instance, ended up going to Grand Theft Auto 5, which snatched it away from Dota 2, No Man's Sky, Path of Exile, and Stardew Valley. It's worth pointing out that none of those titles released in 2018, unless you want to count No Man's Sky rebirth through its excellent NEXT update.
The Witcher 3: Wild Hunt took home Best Environment, beating out titles like Subnautica and Dark Souls 3 in the process. The Better with Friends award, which is for the best multiplayer game, was given to Rainbow Six Siege, while Best Alternate History went to Assassin's Creed Odyssey. Finally, the Most Fun with a Machine award went to Rocket League, while The Witcher 3 developer CD Projekt Red managed to beat out a number of its peers – including Ubisoft, Square Enix, Capcom, Klei Entertainment, and Rockstar – to win Best Developer.
So, with these awards we're essentially running down a list of Steam's greatest hits, which is understandable when you consider that these categories were all decided by Steam users instead of a panel of judges. You can check out the full list of nominees and winners over on Steam, but be sure to also head down to the comments section and let us know what you think of these awards.