Steam Autumn Sale 2019 kicks off with Steam Awards nominations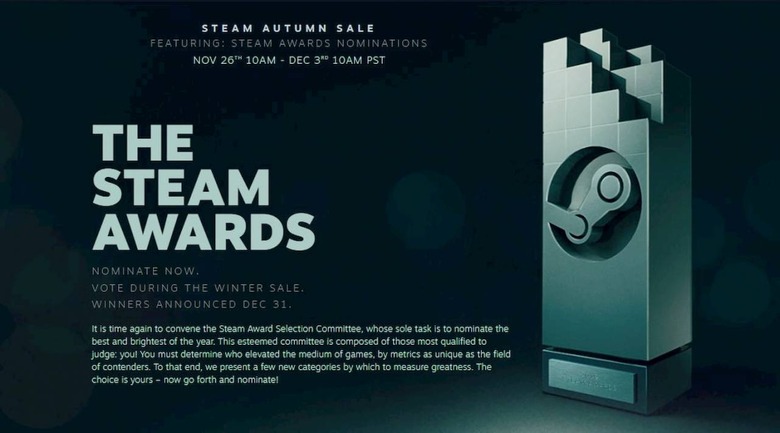 Just as the rumors foretold, Steam has kicked off its 2019 Autumn Sale. The Autumn Sale has become an expected event every year, sandwiched in between the Halloween sale Valve typically runs and the Winter Sale that ends the year (and often sees us into the next one). While the Autumn Sale is usually just a precursor to the much larger Winter Sale, there is one reason to pull up the Steam store even if you're not looking to spend anything.
We're talking, of course, about the Steam Awards. Every year during the Autumn Sale, Steam kicks off nominations for the Steam Awards, allowing players to nominate their favorite games for various categories. This year, there are eight categories: Game of the Year, VR Game of the Year, Labor of Love, Better With Friends, Most Innovative Gameplay, Outstanding Story-Rich Game, Best Game You Suck At, and Outstanding Visual Style.
Most of the categories require that users only nominate games that were released in 2019, but there is one that allows users to nominate any game regardless of release year: Labor of Love. That makes sense, considering that the category is meant to recognize games that are still getting new content long after launch.
Users can earn and level up the Steam Awards badge by nominating games, playing one of the games they've nominated, and reviewing one of the games they've nominated. Voting won't happen until the Winter Sale kicks off in December, with the winners of each category revealed on December 31st.
The Autumn Sale itself will be fairly brief, running November 26th to December 3rd. Today's featured deals include Code Vein at 30% off, Cities Skylines for 75% off, and Gears 5 for 50% off (though keep in mind that Gears 5 is also available through Xbox Game Pass subscriptions on PC). You can browse all of the deals or nominate games for the awards over on the Steam store.