Stealth.Com LPC-450M compact embedded or in-car PC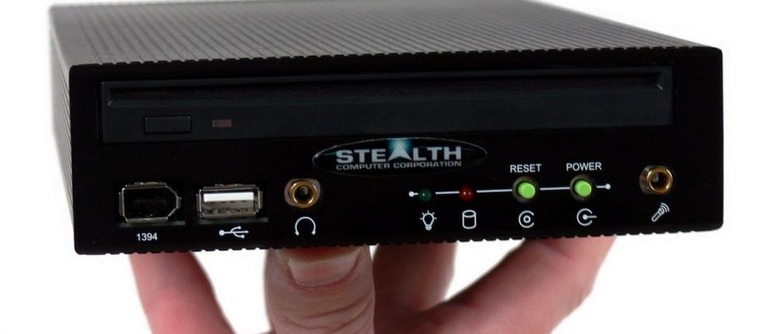 Stealth.Com have announced a new small-form-factor PC intended for embedded, in-car or industrial applications.  The Stealth LPC-450M Little PC is based on an Intel Core 2 Duo with, as standard, a shock-mounted 2.5-inch hard-drive and PSU capable of running on 10-16V DC power such as supplied from a car battery. SSD storage is an option, as is upgrading the standard DVD/CD-RW to a DVD burner.
Despite measuring 5.7 x 9.9 x 1.65 inches, the LPC-450M still manages to offer LAN, two serial ports, three USB ports, FireWire, video and audio output and PS/2 mouse & keyboard ports. There are also start-up and shut-down delay timer options: start-up can be delayed by 5, 10, 20 or 40 seconds or 1, 2 or 4 minutes to give the power supply time to stabilize, while shutdown can be delayed by 3, 5 or 10 minutes.
A fanless, lower-powered version of the PC is also available, the LPC-450FM. Windows XP and Vista are supported, as is Linux, and Stealth.Com will also produce custom OEM builds if you ask them nicely. 
Press Release:
Stealth.Com Introduces Powerful Small Form Factor Computers Ideal for In-Vehicle/Mobile/Embedded Applications

Toronto, November, 2008 – Stealth.Com Inc., a market leader in the industrial computer and peripherals market has released a new small form factor or mini PC designed specifically for in-vehicle/mobile/embedded applications. Stealth's model: LPC-450M Little PC operates with a 10-16VDC power input making it ideal for DC powered applications typically found in vehicles and remote applications.

"One of the unique attributes the LPC-450M mobile computer possesses is a user selectable smart power control interface" remarks Ed Boutilier, Stealth.Com President & CEO.

Start-up Delay Timer – When the ignition/power key is turned ON, this setting delays the start up or turn-on time of the PC. This prevents any false power starts and properly ensures that power is 100% available and ready to go. User selectable timer delay settings are; 5, 10, 20, 40 seconds, 1, 2 and 4 minutes.

Shut-Down Delay Timer – At the time the ignition/power key is turned OFF, the PC could be performing an important task and potentially important data could be lost. The shut down delay timer feature ensures that a safe power down cycle is made by extending the power down time. User selectable settings are 3, 5 and 10 minutes.

Hardware shutdown – If for any reason the OS has experienced a problem shutting down the computer, the Stealth Mobile LittlePC has a built-in hardware shut down feature which will ensure the computer will safely shutdown preventing continuous load and draining the vehicles battery power.

Stealth mobile Little PC's utilize Intel's latest Core 2 Duo processor technology delivering the ultimate in small computer performance. Housed in a rugged aluminum enclosure this powerful & versatile machine measures out at 5.7"(W) x 9.9"(D) x 1.65"(H) or about the size of a hard cover novel yet surpassing the performance of most desktop and notebook PCs available today.

Stealth's mobile PC's features a multitude of I/O connectivity built into its impressively small design such as; LAN, 2-Serial, 3-USB, FireWire, Video, Audio, PS/2 Mouse & Keyboard ports. The LPC-450M has a built-in 2.5" high-shock hard drive with up to 500GB's of storage space for archived data. A lower powered Fanless model LPC-450FM is also available delivering noise free operation.

For applications that require extra high shock, vibration and wide temperature ranges, optional SSD or Solid State Drive options are available. A slim DVD/CD-RW optical drive comes standard with an optional DVD burner available. Systems are compatible with Microsoft Vista/XP, Linux etc and can be custom configured to meet the exact needs of the OEM or end user.

Stealth's LittlePC products serve a demanding market where powerful solutions are being deployed in space-challenged applications around the world. Digital Signs, Kiosks, Embedded Control, Medial Carts, Thin-Clients, POS & Human/Machine Interface are just a few of the applications that are ideal for Stealth's LittlePC products.

About Stealth

Founded in 1990 Stealth.Com, is a leading manufacturer of specialized Computers and Peripherals. The company is ISO 9001 registered and continually develops innovative products designed to meet the exact needs of their clients. For almost two decades Stealth has provided thousands of proven reliable product solutions that have assisted clients with a myriad of applications. Our impressive customer base includes a wide range of customers from single man operations to Fortune 500 companies, Military installations and Governments worldwide. www.stealth.com