Stealth NW-2000 rugged convertible touchscreen notebook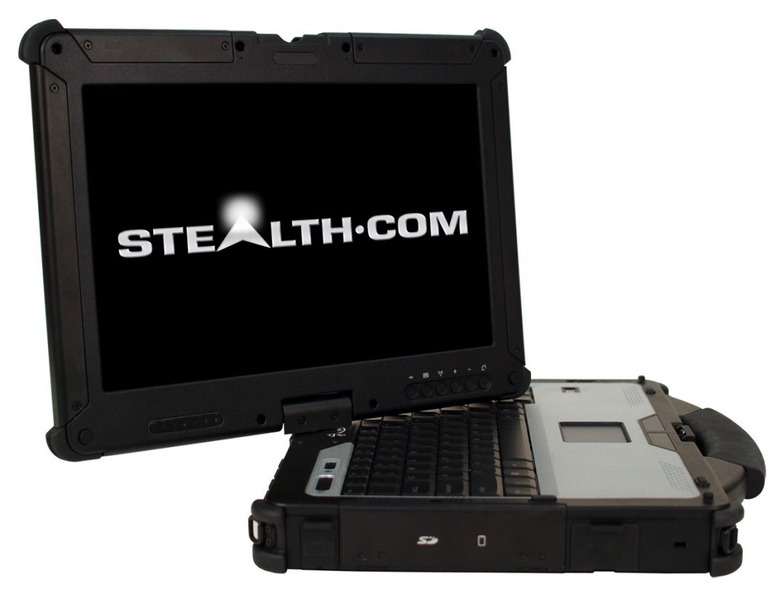 Stealth Computer have unveiled their latest notebook, the NW-2000, a ruggedized hybrid laptop/tablet based around Intel's 1.06GHz Core 2 Duo, a 13.3-inch sunlight viewable resistive touchscreen and MIL-STD-810F, shock & vibration compliance.  The sturdy convertible has 2GB of RAM (4GB maximum), a 160GB shock-mounted hard-drive (or optional SSD) and spill-resistant keyboard, and can cope with being dropped 91cm onto a wood-covered concrete surface 26 times in succession without impairing functionality.
There's also standard WiFi a/g/n, Bluetooth, gigabit ethernet and GPS, together with optional HSDPA.  A standard DVD burner, PC card slot, fingerprint scanner and TPM security module round out the main specifications, and Stealth suggest you'll see up to 6hrs runtime from the standard 7,800mAh battery.
The whole thing weighs a not-inconsiderable 9.04lbs and measures a chunky 9.96 x 13.54 x 2.31 inches.  The Stealth NW-2000 is available to order now, priced from $4,895.
Press Release:
Stealth Computer Releases their latest Notebook Warrior PC

A Hybrid Rugged Notebook/Tablet Computer

Toronto ~ August 2009 – Stealth.com Inc. (Stealth Computer) a leading ISO 9001 manufacturer of industrial rugged computers and peripherals has released their new hybrid Notebook Warrior series computer. The all-new Stealth Model: NW-2000 Rugged PC provides the ultimate in mobile flexibility with the ability to quickly transform from a rugged notebook PC into a rugged Tablet PC in seconds. (and vice-versa)

Stealth's versatile and full-featured ruggedized notebook/tablet computer was built to handle demanding environments in both indoor and outdoor/field applications. The NW-2000 rugged mobile machine meets Military Standard MIL-810F specifications providing for superior performance over commercial grade products. Stealth's Notebook Warrior is encapsulated in a magnesium alloy chassis with built-in weather protective doors for all I/O ports. The IP54 / NEMA13 environmental protection provides a degree of defense in adverse operating conditions with protection from lint, dust and the spraying of water.

"The Stealth NW-2000 Rugged Notebook/tablet is the ideal solution for Government; industrial/commercial customers who are interested in the ability to work in rough environments yet maintain productivity without the risk of data or performance losses" stated Ed Boutilier President & CEO of Stealth.com Inc.

Stealth's NW-2000 ships standard with a sunlight viewable 13.3" WXGA (1280 x 800) LCD screen, ideal for high ambient light conditions. The external video graphics output provides resolutions up to QXGA (2048 x 1536). A built-in touch screen sensor allows finger-touch inputs directly on the LCD or the use of a stylus pen (included) for pinpoint data input accuracy. Stealth's rugged machine is powered with the Intel Memrom ultra low voltage processor providing for efficient power and thermal management. The Stealth NW-2000 measures just 9.96"(D) x 13.54"(W) x 2.31"(H) or (253mm x 344mm x 59mm) and weighs 9.04lbs (4.1kg)

The Back-Lit 86-Key keyboard allows for easy operation in dark environments with a simple on/off brightness control. The system's standard security features include a shock mounted removable hard drive, fingerprint recognition sensor and a TPM module. Stealth understands communications on-the-go is of vital importance and has built-in a wide range of connectivity that includes 802.11a/g/n, Bluetooth V2.0, 10/100/1000Mbps LAN, RJ11 Modem and Optional WWAN HSDPA / GPRS / GSM / WCDMA connectivity.

Stealth products are ideal for demanding applications within the Industrial, Commercial, Scientific Research, Military, Marine, Public Safety, Utility, Transportation, Mining and Telecommunications markets. The new Stealth NW-2000 rugged hybrid PC is available now and starts at $4,895.00 USD

About Stealth

Founded in 1990 Stealth.Com, is a leading manufacturer of specialized Computers and Peripherals. The company is ISO 9001 registered and continually develops innovative products designed to meet the exact needs of their clients. For two decades Stealth has provided thousands of proven reliable product solutions that have assisted clients with a myriad of applications. Our impressive customer base includes a wide range of customers from single man operations to Fortune 500 companies, Military installations and Governments worldwide. www.stealth.com