Stealth Model TT-840 rugged touchscreen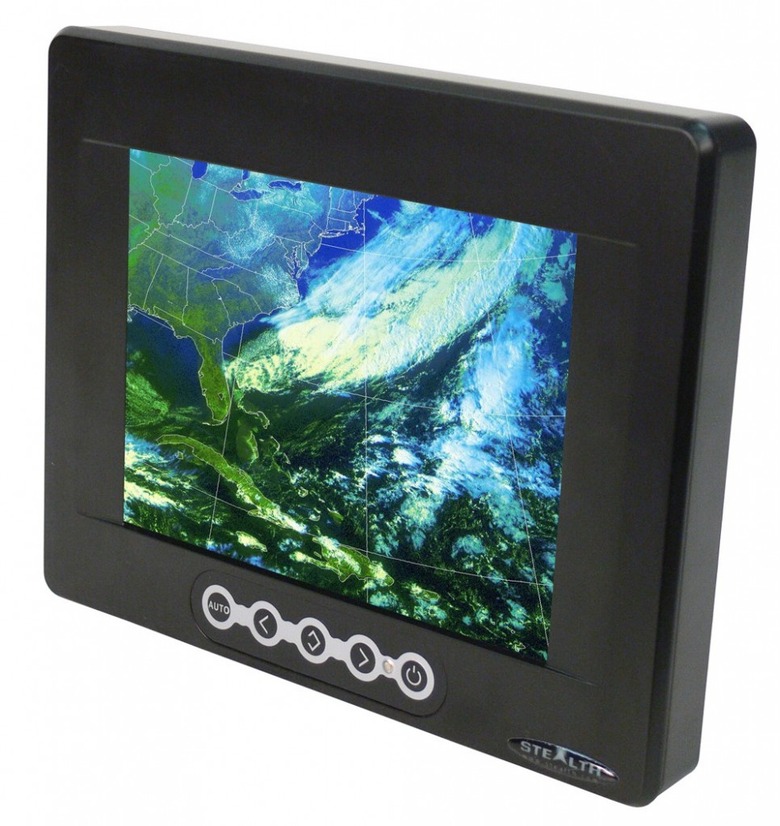 Stealth Computer have hosed down their latest rugged, environmentally sealed LCD monitor, the Stealth Model TT-840, an 8.4-inch sunlight readable water-tight display.  And, given you probably don't want to be flicking a mouse across the deck of your boat or on your oil rig, it's a touchscreen too.
In fact the Model TT-840 uses infrared touchscreen technology, which will work with or without gloves, needs no calibration and can be used in the wet.  As for the display itself, it has a 600:1 contrast ratio and 1,000 nits of brightness for outdoor use, and will operate in temperatures from minus 20 degrees C to 60 degrees C.
Power, video and USB connections are made through IP68 water-proof ports, and the whole thing can be hung with either VESA or RAM mounts. The Stealth Model TT-840 is available now, priced at $2,295.
Press Release:
Stealth Introduces a Water Resistant, Sunlight Readable, 8.4" Rugged LCD Monitor for Demanding Applications

Toronto, March, 2009 – Stealth.com Inc. (Stealth Computer) a leading ISO 9001 manufacturer of industrial rugged computers and peripherals has released their new Model TT-840, a rugged, environmentally sealed, LCD monitor with the ability to survive the demanding effects of harsh environments.

The Stealth model: TT-840 is an 8.4 inch sunlight readable LCD encapsulated in a rugged aluminum enclosure that has been sealed to IP68/NEMA 6P specifications. The high-performance LCD is totally water-tight, surviving liquid, dust and dirt intrusion and performs well beyond ordinary commercially available monitors. Stealth's rugged LCD will operate in extreme temperatures from minus 20 to plus 60 degrees centigrade, ideal for outdoor and intense weather conditions.

According to Stealth's CEO, Ed Boutilier; "by capitalizing on the latest in LED backlight technology the Stealth TT-840 rugged LCD features a vivid sunlight readable display with up to 1000 nits of brightness and a 600:1 contrast ratio making it ideal for outdoor or high ambient light conditions." The LED backlights provide superior performance over their CCFL counterparts by offering low power consumption, long-life and increased vibration and shock protection.

Stealth's TT-840 rugged display is shipped standard with Infrared (Ir) touch screen technology which provides distinct advantages over other touch screen technologies. Accurate touch positioning, increased optical transmissivity, superior shock and vibration specifications, no drift calibration and the ability to operate in wet environments with or without gloves are strong benefits.

Stealth's TT-840 LCD monitor operates with a 12-36VDC power input making it ideal for DC powered applications typically found in mobile applications. Power, video and USB connections are provided through IP68 water-proof connectors directly on the unit. A wide-range of versatile mounting options is available by using the industry standard VESA and RAM mounting patterns.

The Stealth TT-840 harsh environment LCD is ideal for industrial applications such as; Plant Floor, Marine, Transportation, Oil & Gas, Mining, Outdoor and other demanding applications.

About Stealth

Founded in 1990 Stealth.Com, is a leading manufacturer of specialized Computers and Peripherals. The company is ISO 9001 registered and continually develops innovative products designed to meet the exact needs of their clients. For almost two decades Stealth has provided thousands of proven reliable product solutions that have assisted clients with a myriad of applications. Our impressive customer base includes a wide range of customers from single man operations to Fortune 500 companies, Military installations and Governments worldwide. www.stealth.com