StarTech USB Docks Support High-Resolution Displays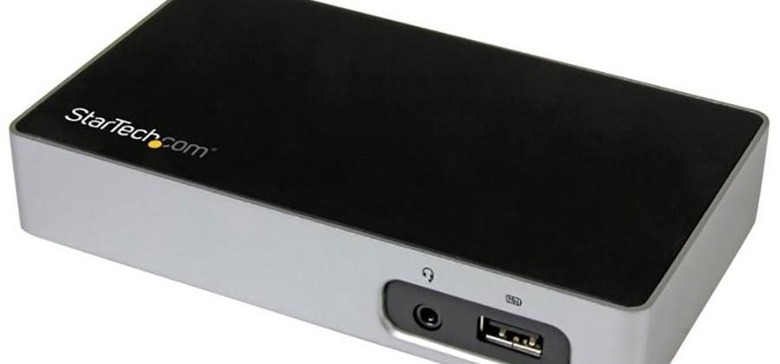 StarTech has unveiled a new line of USB docking stations that make it easy for people to add an additional screen to their computers using nothing but a USB port. The docking stations need a USB 3.0 port and work with any Windows 7 or higher PC and Mac OS 10.8 and higher. There are three different models with different display connectivity options to choose from.
The docking stations include the USB3VDDOCK4DP featuring a DisplayPort that supports 3840 x 2160 at 30Hz or 2560 x 1600 at 60Hz. The USB3VDOCKD has a DVI monitor output and supports resolution up to 2048 x 1152. The USB 3VDOCKH has an HDMI output and supports the same 2048 x 1152 resolution.
Most of the features of the docking stations other than the price and connectivity option for the screen are the same. Other features include dual USB 3.0 ports and one USB 3.0 port with USB battery charging spec 1.2. All three have Gigabit Ethernet ports with Wake-on LAN, and 3.5mm headphone ports.
The docks measure 1" H x 3.1" W x 5.5" L and include the USB 3.0 host cable and a power adapter. Pricing varies a bit between the models with the DisplayPort version selling for $157.99, and the DVI version selling for $134.99, and the HDMI version selling for $135.99.
SOURCE: Anandtech