StarTech Thunderbolt 2 docking station supports dual monitors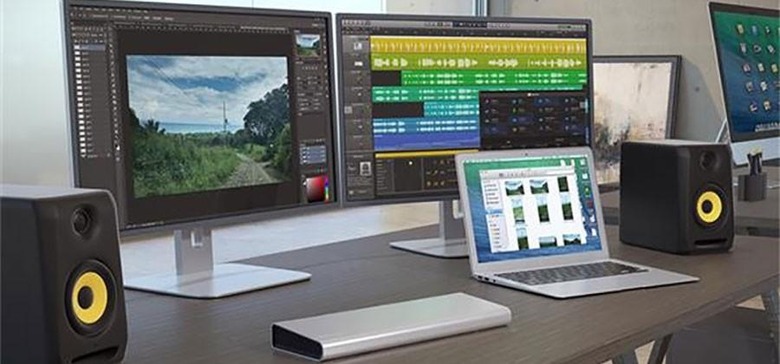 The thinner laptops get the fewer ports and connectivity options they tend to have, thankfully there are docking stations out there that bring some of the connectivity many users want and need back to the party. StarTech has a new docking station that it aimed directly at laptop users with machines that have Thunderbolt 2 ports, meaning Macs. The new dock can connect to up to 12 different devices.
Supported devices include things like displays, storage, audio gear, and networks. All of those devices can connect to a single Thunderbolt port. The docking station sells for $347.99 and its official name is the StarTech Thunderbolt 2 Dual-monitor Docking Station for Laptops. Inside it has an Intel DSL5520 Falcon Ridge quad-channel Thunderbolt 2 controller capable of 20 Gbps data transfers.
It can achieve that data transfer rate whole supporting a single 4K resolution display or a pair of 2560 x 1440 monitors. This means it has the ability to add two more displays to any PC with a Thunderbolt 2 connector. Other than those Thunderbolt 2 ports, it also has a pair of DisplayPort connections, four USB 3.0 ports, eSATA connector, Gigabit LAN, two 3.5mm ports, and a SPDIF audio output.
One of the USB ports supports USB Battery Charging 1.2 specs allowing it to charge smartphones when not connected to a notebook. The dock is designed to look like something Apple would make, which is no surprise considering that Apple is the only big supporter of Thunderbolt right now. The dock can be purchased directly via StarTech or via several online retailers. The purchase price includes a Thunderbolt cable, power adapter, and four power cords.
SOURCE: anandtech