Starbucks now taking payments from mobile phones nationwide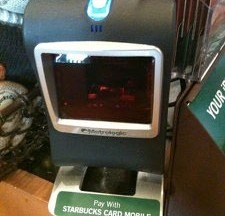 I am not a coffee drinker, but my wife spends a small fortune each month buying pricy coffee from Starbucks. If you are the same way and like to get your fancy coffee each day at the café and want an easier way to pay for your drinks Starbucks has announced that it is now accepting payments from your mobile phones nationwide.
The mobile payments have been in testing for a while in limited areas. The new system uses a scanner at the checkout counter that works in conjunction with an app that runs on the iPhone, iPod touch, or Blackberry devices. The mobile app can be loaded with funds from a credit card or from PayPal.
Starbucks rolled its own tech for the mobile payments option and the company reports that in testing, it looked at application speed, transaction speed, and customer wait time and using the mobile payment solution was the fastest way to pay for customers. I can see this app being useful for people that only want to spend a certain amount on coffee each month. The app keeps a running total of how much money is in the account at any given time.
Via Mashable