Star Wars Turntable Launches To Celebrate 10th Annual Record Store Day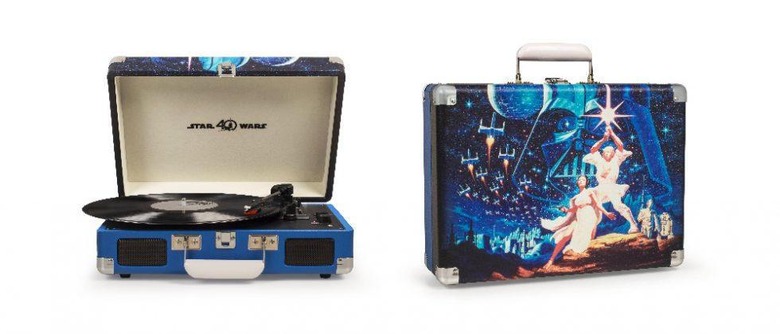 Crosley Radio has taken the wraps off its new Star Wars Turntable, a turntable featuring iconic Star Wars imagery to coincide with both A New Hope's anniversary and the 10th annual Record Store Day. As we'd expect, the Star Wars Turntable is a limited edition model; Crosley says it'll be available to purchase from select indie record stores starting on April 22. This marks the company's fourth annual exclusive release for Record Store Day.
The Star Wars Turntable features imagery based off the original release's poster art from 1977; it's bright blue on the outside and creamy white on the inside, with the inside of the lid featuring the Star Wars logo. When folded, the turntable is a compact and attractive model that'll no doubt appeal to both Star Wars and vinyl fans; when opened, it reveals a belt-driven turntable and NP6 needle.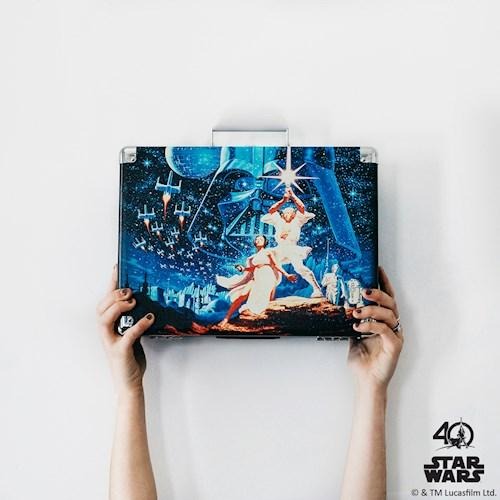 This limited edition model features an auxiliary input port and RCA/headphone jack output, as well as stereo speakers, a manual return tone arm, pitch control, and three speed options: 33 1/3, 45 and 78 RPMs. Though retro in design, it has a bit of modern tech in the form of a Bluetooth receiver. The table is priced at $109.95 USD.
Discussing the unique Star Wars design, Crosley Radio's marketing director Jason Menard said:
Star Wars has been and will continue to be a staple in the entertainment industry that all generations love, making it an obvious choice for the theme of this year's only turntable. We're excited to see this unique turntable resonate with vinyl fans of all ages.
SOURCE: Crosley Radio