Star Wars Stormtrooper-ized My Little Ponies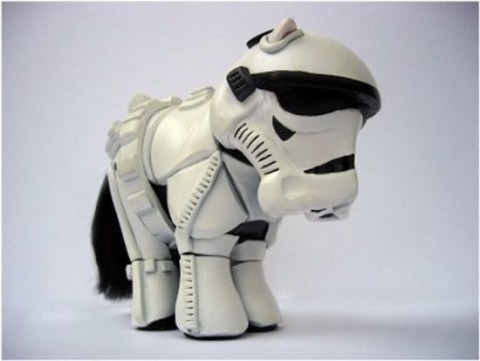 What a mash up this is! Someone has taken those sweet little girly figurines, My Little Ponies, have been turned them into Star Wars Stormtroopers. So fans of the epic saga should listen up!
In fact, these My Little Pony modifications were made by Mari Kasurinen, a pop culture artist. Called the G1 My Little Pony figurines, the knickknacks are sure to attract some attention, if not for simply the odd pairing between the horsey figurines and the tales from that galaxy far, far away.
By using a combination of sculpting clay and acrylic paints, the My Little Pony Stormtroopers take on new life and will certainly catch the eye of collector's of toys from the 80's and Star Wars fanatics, alike.
[via Coolbuzz]